If you are planning a meeting, online event, or conference, there are some things you should know before diving into building a website for it. You should have a clear vision of the things you want to include in it. The design of your website for an online conference should not be stunning or sophisticated.
However, the most crucial thing you should be aware of is engaging visitors and persuading them to purchase a conference ticket. You should make sure to provide your visitors with a way for online payment. Thus this part of the website should always be functional and reliable.
Most of the time, people include information about the conference's location, giving people routes to find the place. If the meeting is virtual, this section describes the event location, but it isn't required because all attendees will be online (online).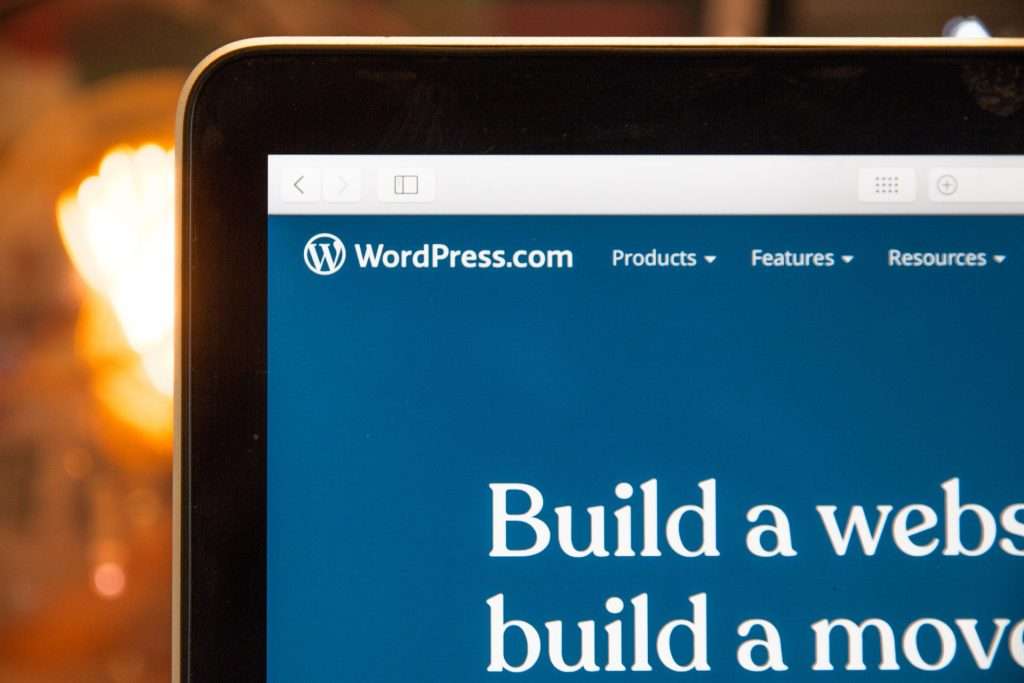 Of course, the crucial part of the conference is speakers, and the number of people who come to your meeting will vastly depend on the speakers you choose to hold the conference. Thus, present them on a landing page with their photos, short biographies, or include their names. A registration form is used to apply for the conference.
As a result, it is beneficial to have a clear and well-designed form to fill out their information and sign up. We also recommend including all payment methods, costs, deadlines, and other pertinent information on this same page.
Before joining and buying a ticket for a conference, people like to know the schedule and topics that you will cover in the meeting beforehand. As a result, make sure to include this information, as well as your sponsors and the conference's historical background if you previously held it.
It is also helpful to have a FAQ section where the most frequently asked questions are answered so that visitors do not have to search the website for them.
Since this article mainly tackles only WordPress, we will give you a list of the four best WordPress themes that you can use to build a website for an online conference or meeting.
Confera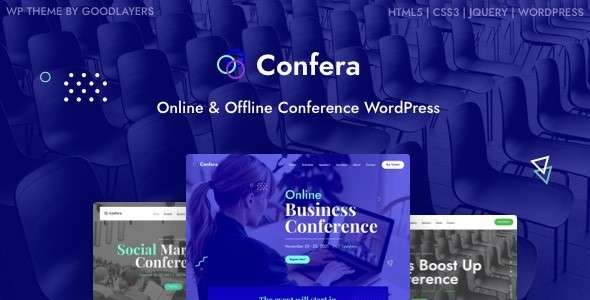 Confera is a very reliable WP theme with excellent customer support. Also, this is probably one of the main reasons why it has already got over 170,000 satisfied customers. Confera has an in-built page builder made by the Confera developers team and ensures impressive performance and speed compared to other WordPress themes.
Customization possibilities are endless. You can change everything, including the headers, colors, menus, and sidebars. Confera's team constantly updates you on new improvements and features to ensure a smooth and reliable experience.
It has a schedule page to manage and build schedules for your conferences, including a single page for conference speakers providing visitors information about speakers' backgrounds, social links, phone numbers, upcoming speaking sessions, etc.
You can easily add a Zoom button next to the conference details, linking it to the Zoom call session where the meeting will take place. This theme costs $64 for a year of support and updates.
Encontro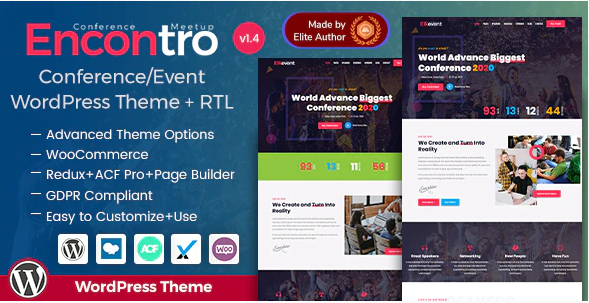 A little cheaper option than Confera, Encontro is a WordPress theme designed for online conferences, meetings, seminars, festivals with a price of $39. It is fully responsive with WooCommerce support, which you can use for selling tickets. This theme is compatible with translation and SEO plugins such as Yoast and Loco Translate. Making changes to the design is simple with an easy-to-use page builder.
WiTalk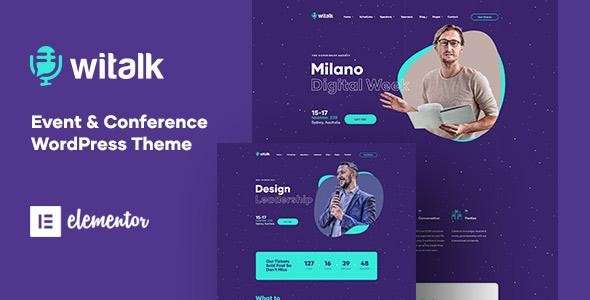 WiTalk is the cheapest option among those four themes; it is only $24 if you get it now during the on-sale discount. This theme is perfect for any public speaking meetings, sports events, festivals, and it comes with 3+ prebuilt demo homepages that you can use for building your conference website.
It has a detailed conference schedule list, event location map widgets, call-to-action "Get Tickets" buttons, speaker's profile and biography, sponsors page, and more. You can build pretty much any event-related website with this theme, and the price is quite reasonable, especially now during the sale discount.
Exhibz
Last but not least interesting, Exhibz is a WordPress theme used for building websites for single or multi events, seminars, education conferences, and more. For customization purposes, it uses a drag and drop builder with 14+ homepages with different designs, unique header styles, support for schedule management, and selling tickets.
This theme can also be integrated with the Zoom platform to automatically connect to the online conference via a Zoom call session. If you want to buy this theme, it will cost you $45 for a year of full support and future updates.
Conclusion
In conclusion, we have to say that building a website is not an easy task. However, choosing a theme for your site is a vital part, so we wanted to make your life easier and list for you four themes that stand out. Make online conferences a unique experience for your visitors. Good luck!