If you have decided to build an online presence for your business, the first thing you will need is a website. These days, building a website (whether you do it yourself or hire someone) is easier than ever. One of the most important things that you will need to pay attention to is web hosting.
What is Web Hosting?
Think of it this way – you will want all of your files stored in a safe place. That is why you pick a web hosting provider to do it for you. In addition to safety, using a web hosting provider means that you get to store content offsite. By doing that, you save money on storage.
Sounds important, right? Before you start worrying about the various web hosting providers out there, we took it upon ourselves to do a full review of one. Let us introduce you to one of the best web hosting providers and all of its services.
What is HostArmada?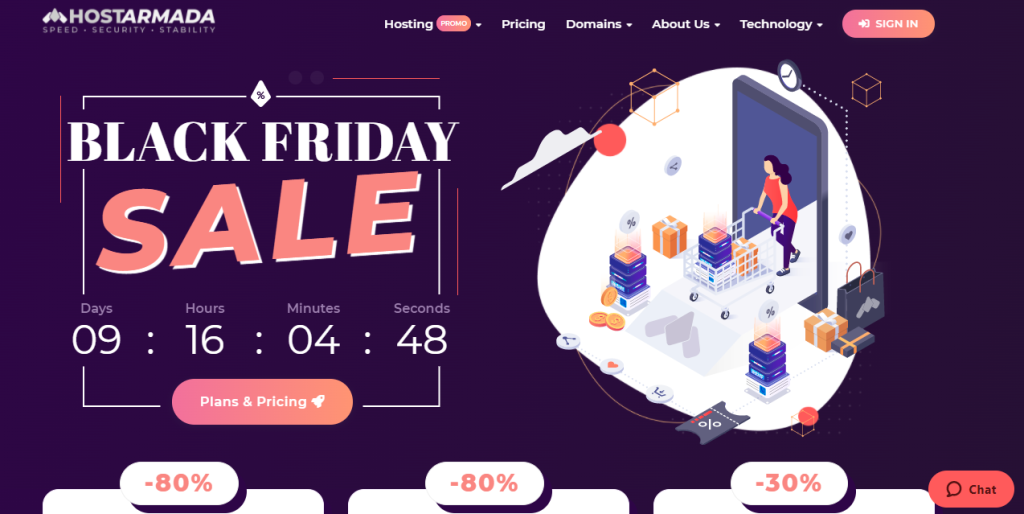 A US-based web hosting service, HostArmada, started in 2019. Even though it is still a newcomer in the web-hosting game, it has expanded onto four different continents.
Their mission is simple – providing you with a Web Hosting Service that is fast, reliable, and secure. To do so, they offer several hosting packages.
You can choose between 9 data centers, located in the USA (Dallas, Newark, Fremont), Canada (Toronto), The UK (London), Germany (Frankfurt), India (Mumbai), Singapore (Singapore), and Australia (Sydney).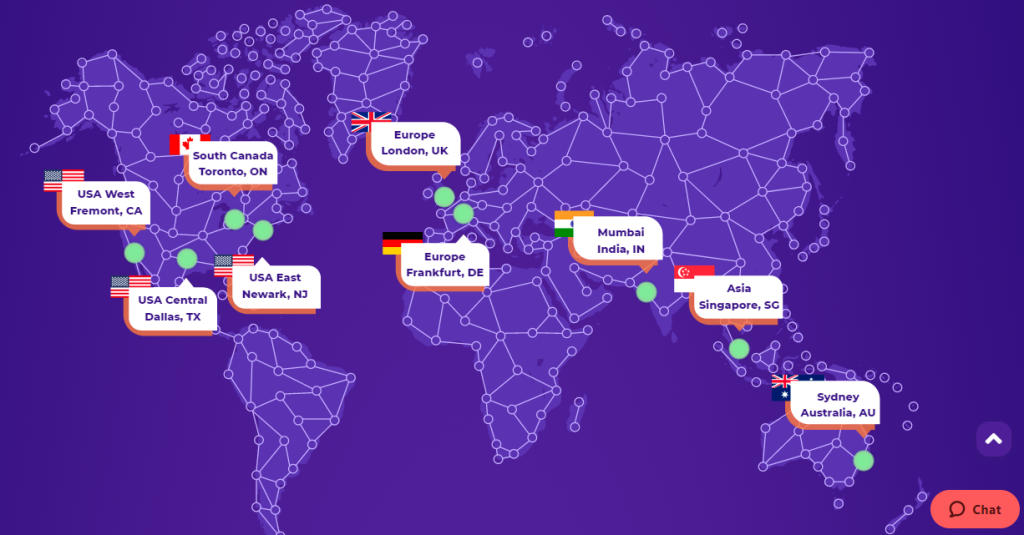 Further on, we will see what they include, and hopefully, find the perfect fit for your web hosting needs.
Cloud WordPress Hosting
This one is a match made in heaven for WordPress enthusiasts. The Cloud WordPress Hosting package will take care of all of your WordPress site needs.
Features:
One-click WordPress Installer: deploy WordPress instances without a fuss, and configure each installation individually
Daily auto-backups: keep your site healthy and up-to-date with daily offsite backups that you can restore with just one click
WordPress Security: let HostArmada's innovative security tech take care of every website in your WordPress Hosting package
SSD cloud storage: your storage in the WordPress Hosting package gets the best-in-class SSD drivers
And many more!
Get the best web hosting service for your WordPress sites today!
Cloud Shared Hosting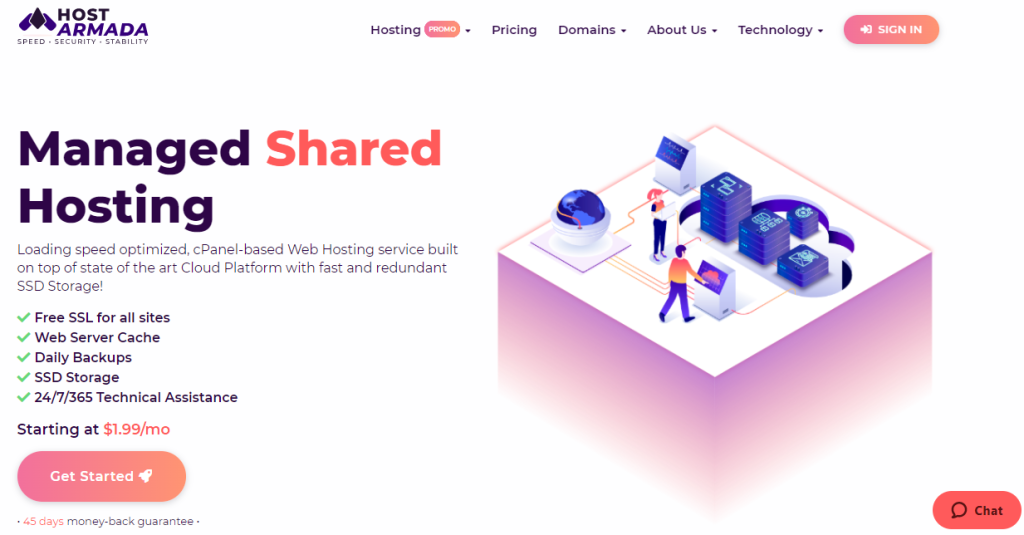 Do you want an app that allows you to fix broken links, upgrade the original code, or improve the design? Then it is safe to say that you are a fan of open-source applications. Moreover, that means that HostArmada's Cloud Shared Hosting package is the perfect fit for you.
Features:
One-click Application Installer: Get your website up and equipped with open-source applications in no time.
SSD Cloud Storage: the storage for the Cloud Shared Hosting package is equipped with the best-in-class, native SSD Drives
Managed Web Hosting: HostArmada guarantees to keep your web hosting environment healthy and up-to-date
And more!
Plus, it does not matter if you prefer WooCommerce, WordPress, OpenCart, Magento, Joomla, Drupal, or PrestaShop; you can optimize the Cloud Shared Hosting package to handle all of them.
Cloud Reseller Hosting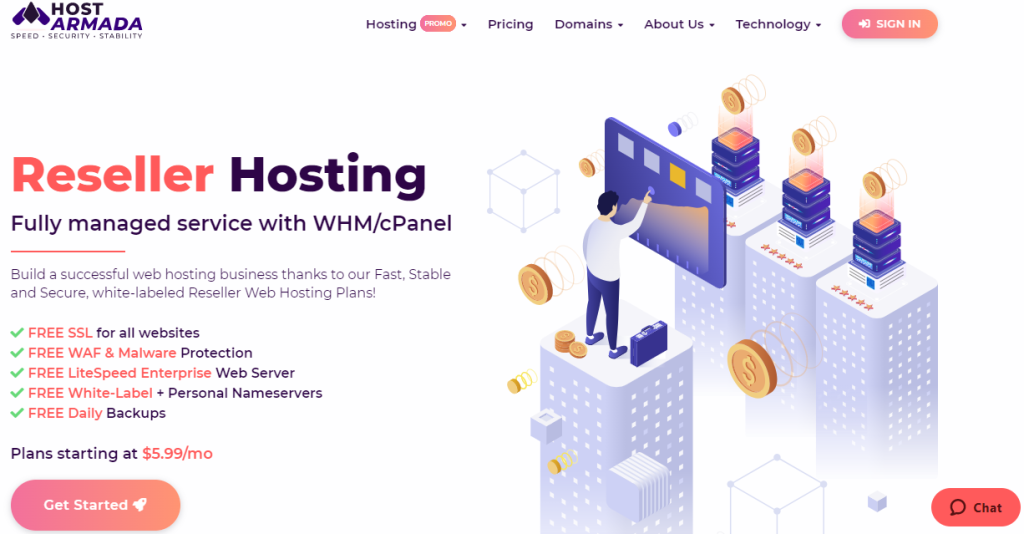 Do you need to set up multiple Web Hosting accounts to host your clients' sites? Would you like to do that without having to deal with technical issues such as server setup, backups, control panel setup, and so on? So, we've found you a match.
The Cloud Reseller Hosting package will focus on the technical aspect while you focus on your clients.
Features:
WHM Access and cPanel accounts: effortless management and complete control of all your clients, free of charge.
Resource Management and Account Isolation: Get individual virtual environments for every cPanel account! In case of infection, HostArmada will prevent further compromisation of your other accounts and over-usage of the hardware resource.
Environment optimized for WordPress: Get access to several tools like Staging, WP-CLI, etc. The Cloud Reseller Hosting package is optimized exclusively for WordPress.
And much, much more to discover.
Cloud VPS Hosting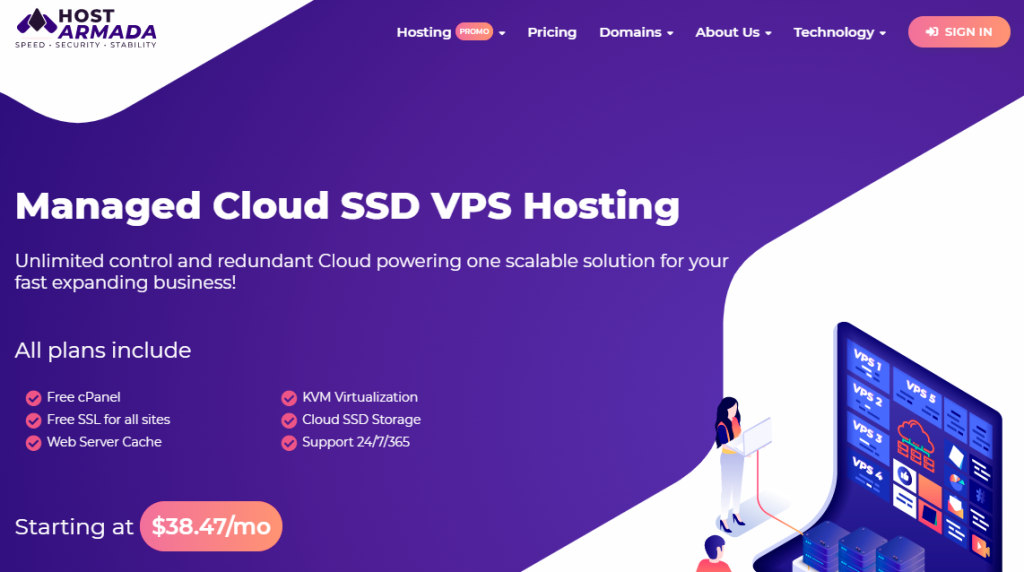 Care for a type of web hosting service built entirely on the Cloud platform? Maybe something that uses top-notch components such as native SSD Drives, ECC RAM, and last-generation Intel CPUs? Well, look no further. The Cloud VPS Hosting package is the one for you.
Features:
Nginx Web Server Cache: take caching to the next level! This package ensures maximal website loading speed with a minimal resource usage footprint.
ROOT Access for advanced users: available on every plan of the Cloud VPS Hosting package
Optimal performance with latest services: quick bug fixes and immediate vulnerability patching – HostArmada guarantees that their core services will always be up-to-date.
Dedicated CPU Server Hosting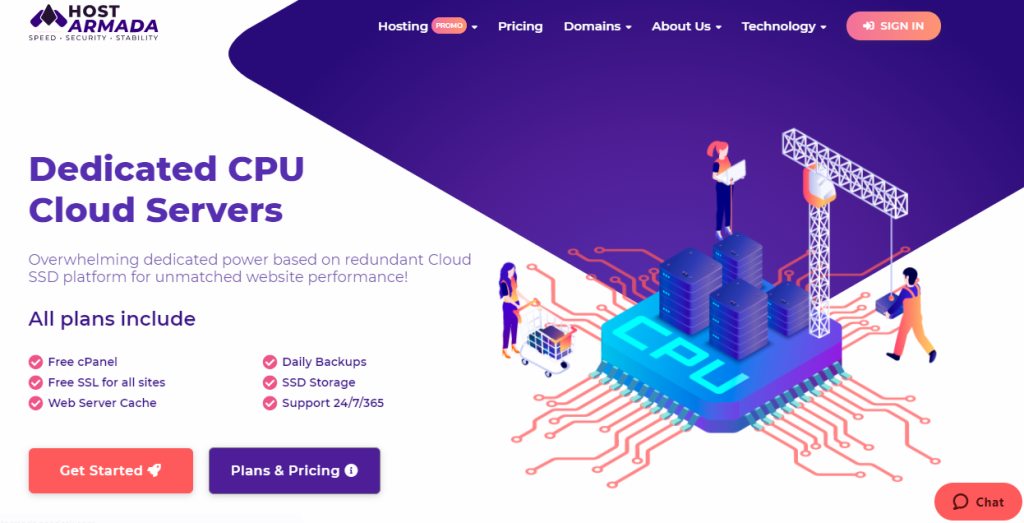 Are you on the lookout for a powerful Dedicated CPU Server? Look no further. HostArmada has just the thing for you. Also, you can use the Dedicated CPU Server Hosting plan for eCommerce, the Reseller Program, and as independent Database servers, among other things.
You can even transfer your website for another web hosting service to the Dedicated CPU Server Hosting package without breaking a sweat. The package comes with unlimited website transfers.
Opensource Hosting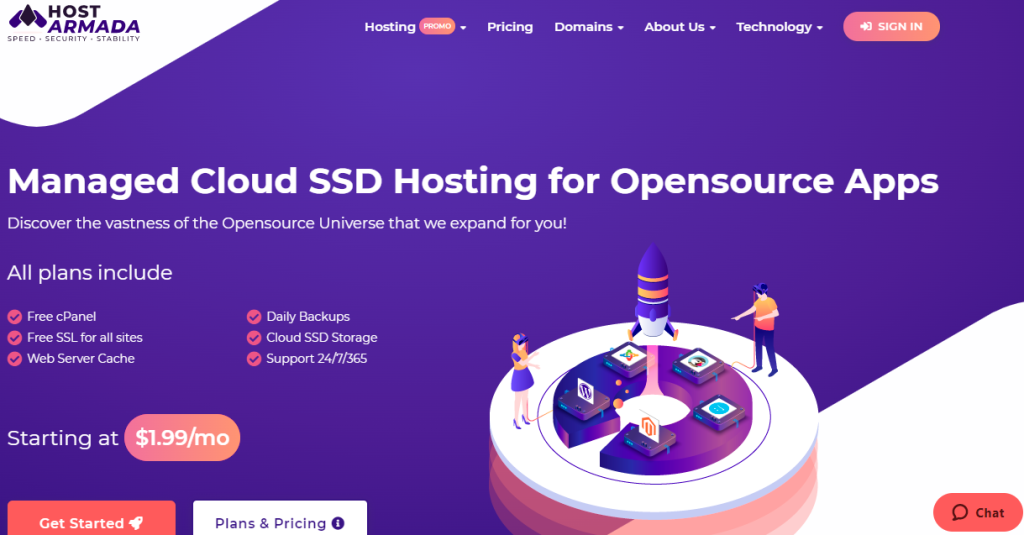 If you have been keeping track of the happenings in the web development field, you have noticed the rise of open-source platforms. Also, it is vital to mention that they are affordable and easy to use, which means they appeal to less programming-savvy customers.
Keeping that in mind, HostArmada aimed to provide a specially optimized web hosting environment that meets all the requirements that modern open-source platforms have.
However, this is where the affordable Opensource Hosting package comes in.
Features:
Easy to pilot service: you are provided with an easy-to-use, reliable control panel thanks to cPanel
SSD Cloud Storage: Native, best-in-class SSD Drives paired with battery-powered RAID controllers ensure your data integrity!
One-click Application Installation: deploy Applications' instances smoothly while configuring every installation separately! You also get to maintain different application versions in individual folders!
And much more!
Development Hosting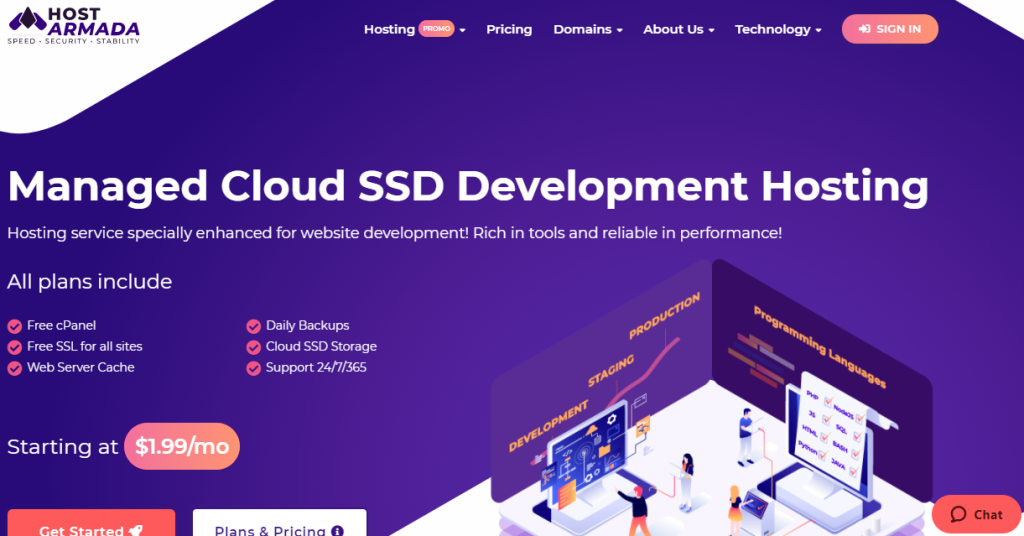 Last but not least, the Development Hosting package contains a bundle of tools perfect for all of our web development enthusiasts. The plans aim to give you a competitive environment for application development.
In addition to that, the Development Hosting package seeks to remove the need for application migrations between the development and production environments. Moreover, you get to use the same package for development and then use it for production.
Features:
Advanced Devs SHH Access: perfect for developers that need a quick command line
Optimal performance with latest services: quick bug fixes, instant vulnerability patches
Discover more!
Apart from their offerings, HostArmada also provides an excellent domain name service. It offers many domain names, flat-rate renewals, domain notifications, and round-the-clock domain name services.
You also get Domain Extension, which shows the relation between a Domain Name and an actual area of expertise. Their prices range from $1.64 to $24.43, depending on the Domain Extension you choose.
In addition to everything previously mentioned, HostArmada excels at two things: loading speed and security. Their website loading speed is guaranteed to gain you a better SEO ranking, a reduced user bounce rate, and more conversion. Along with that, HostArmada uses all-in-one security solutions to achieve the overall security of your site.
Conclusion
Even though HostArmada is the Sophmore (they just turned two!) amongst web hosting services, it has a variety of staggering packages. Anyone can find their fit for their web hosting needs. Affordability, speed, and tight security are the features that stand out the most. Head over today and find the perfect match for yourself!