Entrepreneurs are primarily busy maintaining their eCommerce business and researching the best apps and tools to boost their Shopify sales. Knowing how complex and time-consuming a task can be, this article delivers the nine best Shopify apps to enhance your Shopify store. The apps listed below are supposed to help you expand the clientele by improving referral programs and other sources of revenue. Let's get into the details of these nifty applications without further ado.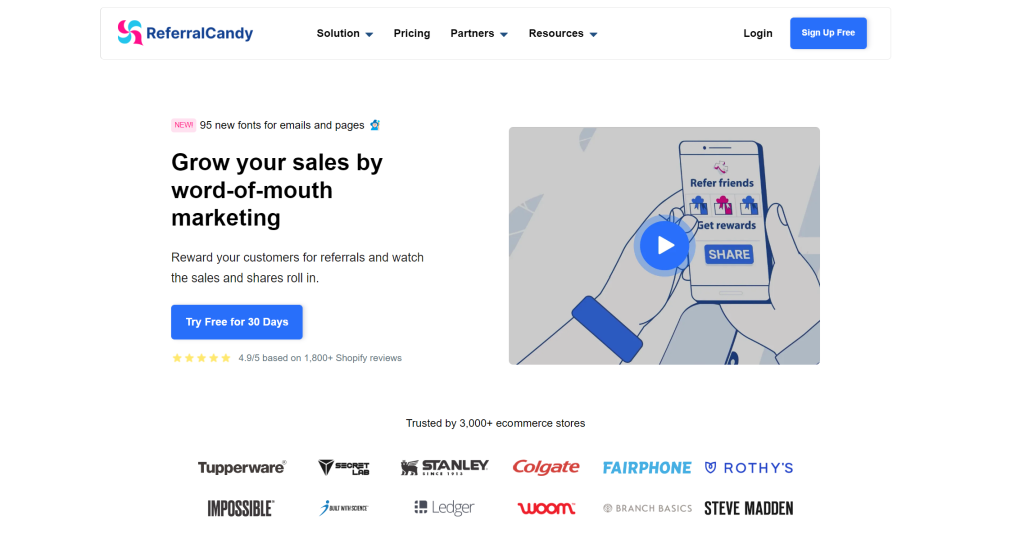 Referral Candy is one of the best-known applications that allows you to easily customize the theme to help your visitors navigate to contact pages and emails. Referral Candy lets you monitor your sales and referrals' efficiency. Also, if you want to reward your clients, this app will let you choose what your clients love the most by managing the codes and supply with your parameters.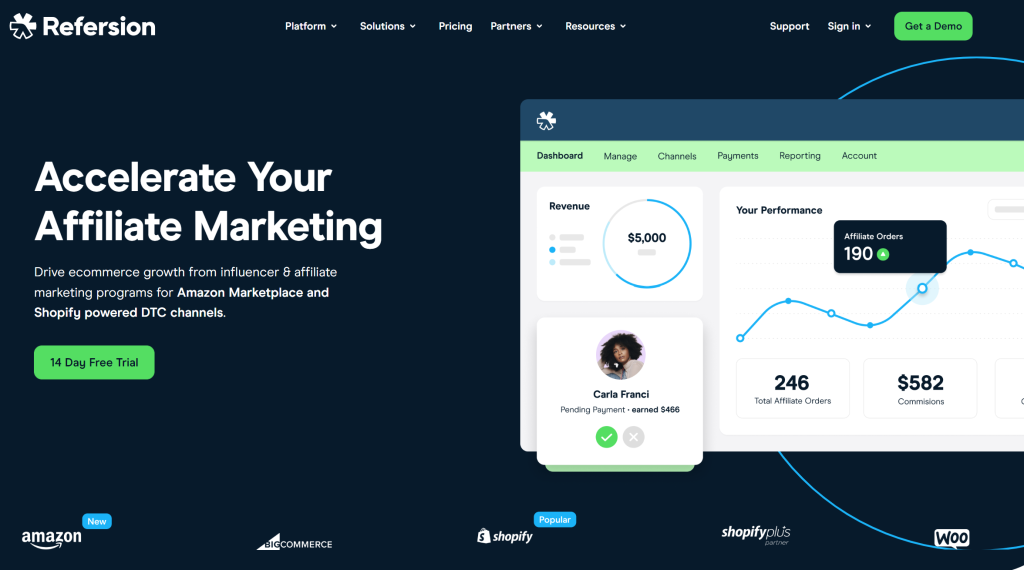 If you are looking for a partner program that will let you make unlimited deals and use various fee forms, Refersion is there to help. It allows you to plan the registration pages to mark the platform for brands and affiliates. Tracking is also made accessible. Log orders can be found on your website with all the necessary referral connections, emails, or other contacts. If you want to make your work more efficient (and we're sure you do), you can expand your affiliate network with a free listing on Refersion in front of influencers and other ambassadors.
LeadDyno is a powerful promotion tool that allows so many valuable features. You can track your orders by coupons, outside references, and email showcasing. Customer support of LeadDyno is worth mentioning. It allows live talk, telephone, and email help you can access anytime and solve any possible issues. For issues like expanding your audience and converting leads into actual customers, you can automatically welcome new customers after joining the offshoot program you offer.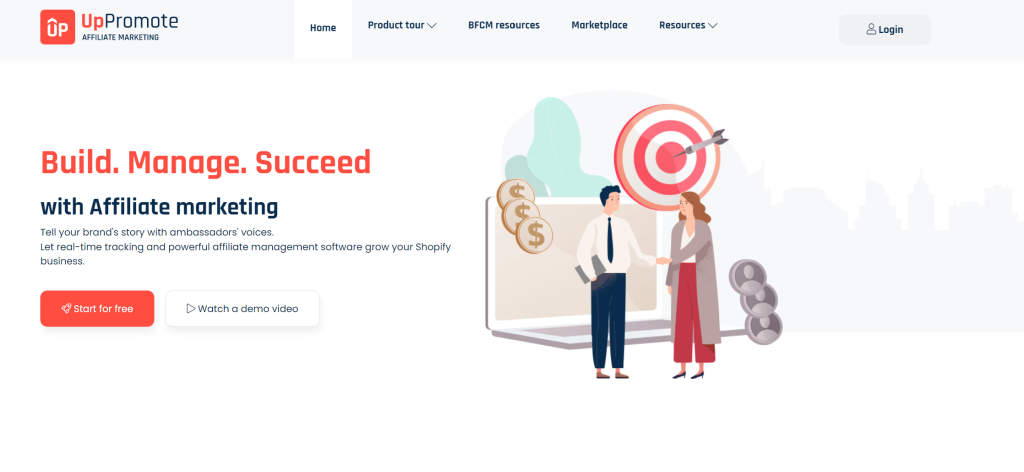 Increasing sales by giving out commissions to your existing customers are made easy with this All-in-one affiliate marketing helping app called UpPromote. With this feature, you can include different brand ambassadors and influencers. The app will provide you with generated affiliate links and coupon codes that you can forward to your clients and customers. By that, you opened a new channel of bringing new customers directly to your business. 

For those who prefer real-time tracking – Enlistly is a good choice. It is easy to use and manage. Enlistly will help with shop arrangements, so you can start by following the references of the orders. Enlistly does not require prior coding knowledge, and you will not be obliged to know how to add codes and alter layouts. The important thing is the import. Enlistly will let you import an item from retailers straight to your Shopify store and boost your revenues by procuring commissions. The more you extend your store offerings, the more you attract clients and customers.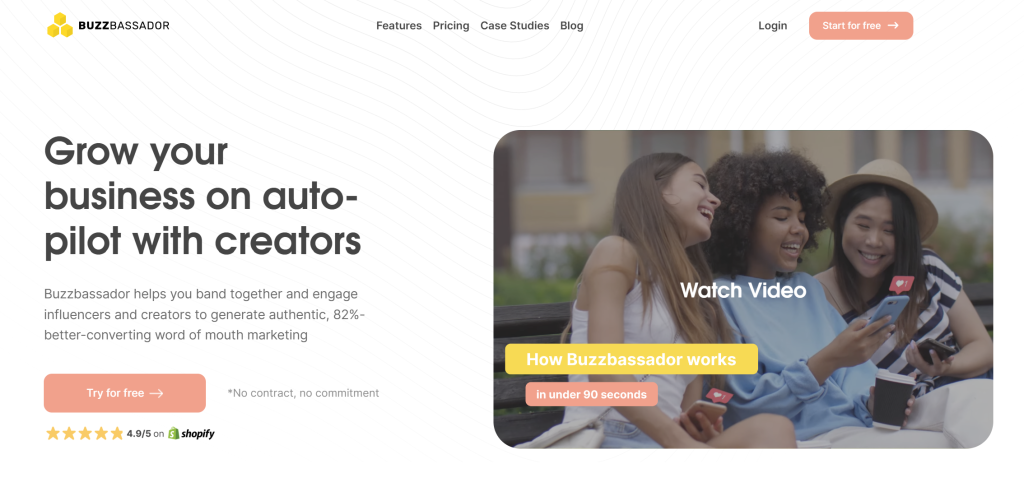 Robotization of tedious processes is a great time-saver, and Buzzbassador claims that from its beginning. Buzzbassador allows you to track an ambassador's activity. Efficiently. It is all about the legitimate incorporation with your shop, so you get the best assistance with following your clients' deals and gaining insight into how regularly they promote your brand: easily set goals, rewards, and deal objectives for various representatives that will boost the execution.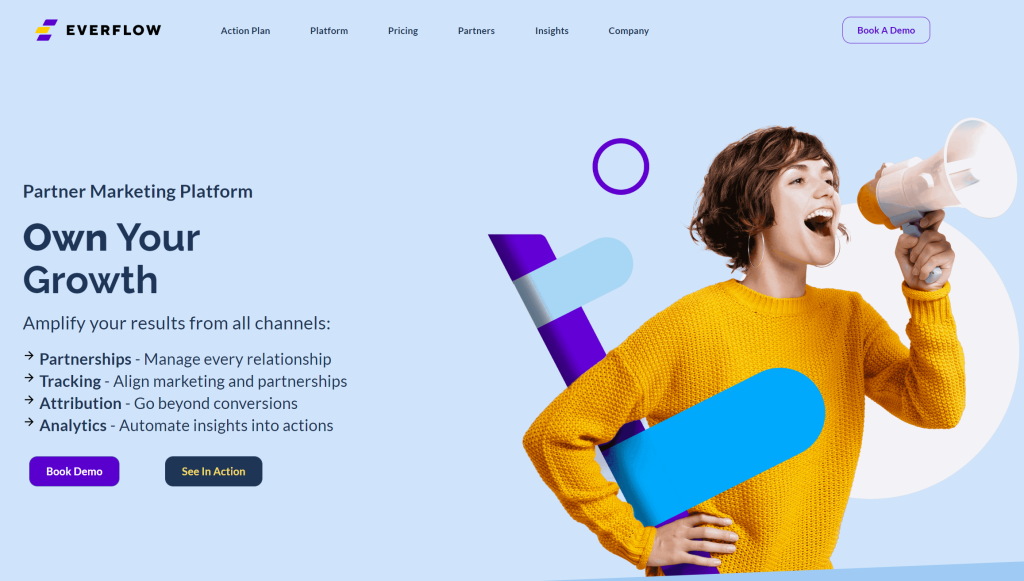 Everflow stands for a genuine partnership performance that allows easy management of driving execution from different sources: affiliates, influencers, and other media channels. It doesn't require a complex setup since the app naturally interfaces with your Shopify account. You will also be able to track clients once they are in the store. One exciting feature is clickless tracking. It occurs under the use of two strategies such as direct linking and coupon code URLs.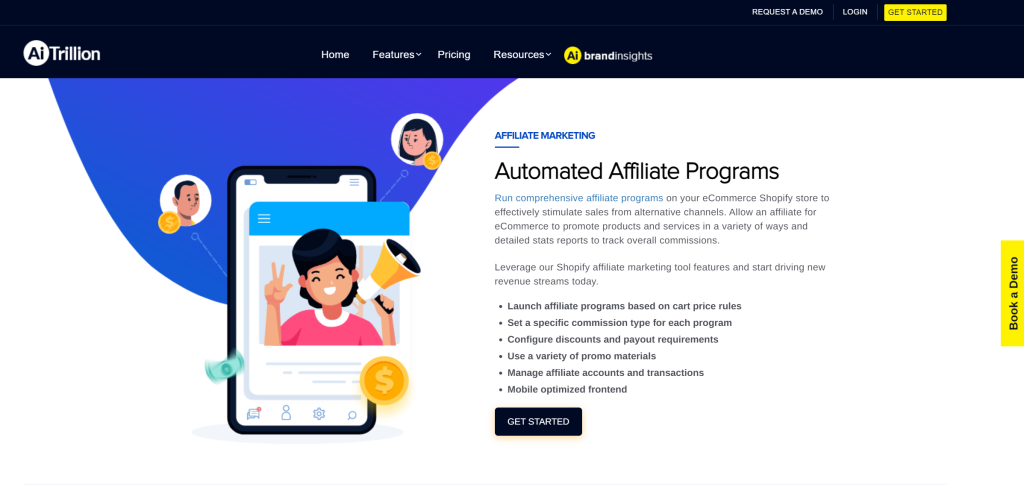 Another excellent affiliate marketing app that assists eCommerce owners in growing their income is AiTrillion. It brings all the features necessary to improve user experience significantly. It lets you make different segments based on the cart rules and parameters. There is an option to give full access to an affiliate marketing agency that will get in charge of all affiliate actions. 
In the eyes of Social Snowball, everybody is an affiliate. Once a new client purchases in your store, an affiliate account, and discount code are generated. It is further shown on the "thank you" page with a simple goal: to motivate your customers and affiliates. Social Snowball will track the critical aspects of performance, such as affiliate revenue and affiliate sales. It will display the data visually on the dashboard, so you understand it quickly and easily. It is called KPI tracking, and the idea is to let you know and measure the success of your affiliate programs. Payouts are made easy, with two simple clicks and without any hassle. Moreover, your affiliates can redeem gift cards or payments such as cash and PayPal.
Conclusion
By now, we could have concluded that an eCommerce business takes much time to maintain. Most eCommerce owners constantly look for the best apps and tools that will help them increase Shopify sales. The apps listed above will undoubtedly save you time regarding Shopify store sales. Improving referral programs is one of the proven ways of opening new revenue channels and attracting new clients daily. These applications we discuss come in with numerous useful features that allow you to step up your Shopify sales like a pro.