It is always best to provide your customers with as much information as possible when it comes to online retail. If you don't, they'll likely take longer to decide whether or not to buy, or, worse, choose not to buy at all. That's why WooCommerce users install product tabs plugins.
In general, different plugins and platforms can help you optimize a website a lot easier. So to make your website successful, you should also invest in a high-quality hosting platform.
If you need help in choosing the one for you and looking for reliable and affordable WordPress hosting, WPMU DEV is fast becoming one of the best choices on the web. Get 20% off any of their fully-managed and dedicated plans.
Product tabs allow you to organize information about the products in question more efficiently and inform the customer exactly what they're buying. In today's article, we'll present you with some of the best product tab plugins the market has to offer, so sit tight.
Paid-For Product Tabs Plugins
1. Custom Product Tabs Manager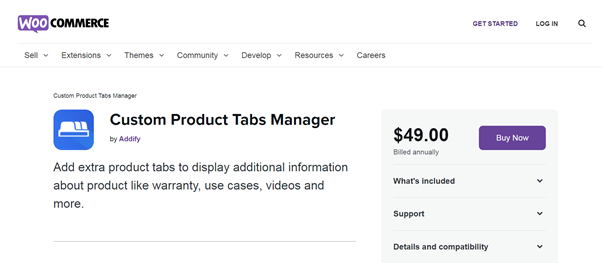 Custom Product Tabs Manager will allow you to add as many tabs as you'd like and offer plenty of information. It also includes the ability to edit existing ones, add, subtract, or expand the amount of information about each product in your inventory.
You also don't have to use this plugin for this purpose alone. Anything that has tabs, FAQs, warranty information, reviews, you can create everything with the help of this plugin.
Every table is nearly infinitely customizable, allowing you to edit to your heart's content. There's also the option to enable/disable different tabs and change their titles. The price of this plugin currently stands at $49 in the form of a one-time purchase.
Other features:
Make tabs specific to certain product categories
Make them available to certain user roles only
Customize background images, colors, and icons
Sort them any way you want
2. Vertical & Accordion Product Details Tabs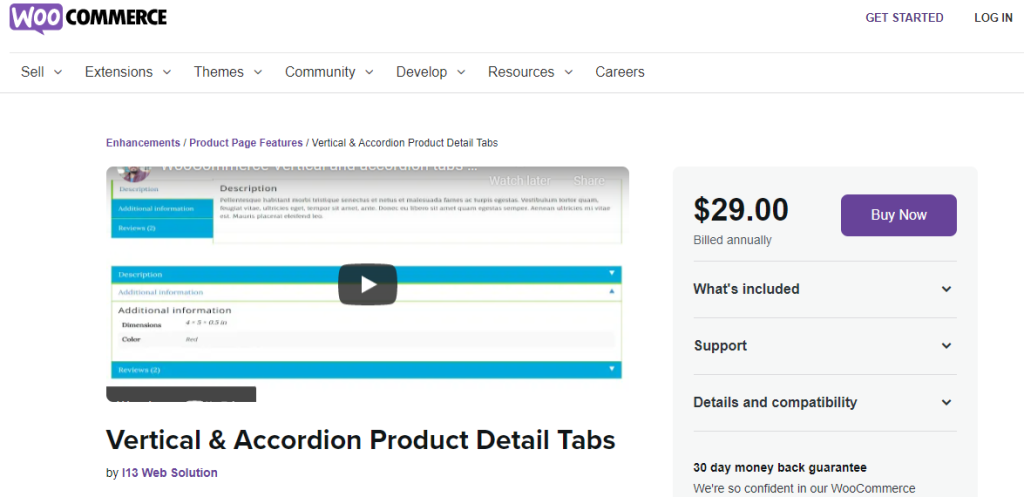 If you're looking for a plugin with a different look than most are used to, consider getting the Vertical & Accordion Product Details Tabs plugin. Unlike the regular horizontal tabs most stores use, with the help of this plugin, you can transform them into vertical types.
They will also be completely responsive, and your customer will have no trouble reading the information provided on their mobile phones. Generally speaking, this sort of dropdown tab is very well suited for information-heavy product descriptions or elaborate size charts. So, if that sounds like something you'd need, give it a shot.
Notable features:
Very easy to use
Customization of fonts and background colors
Affordable pricing – $29
3. WooCommerce Tab Manager
WooCommerce Tab Manager is one of the more expensive options out there, but it's also one of the most popular. You can use it to create product tabs globally and individually to provide information in a super-organized manner – no difficult navigation here.
The drag-and-drop interface makes the whole thing really convenient and super easy to use. In addition, this plugin will also allow you to change and manage tabs created by other plugins.
It's a full-on overhaul of your product tab system. You can create each tab directly from your WordPress dashboard, eliminating the need to fiddle with files, filters, or theme modifications. As such a well-rounded plugin, it comes with a price to match. This plugin costs $99 per year.
Other features:
Everything is easily manageable
The ability to rearrange core tabs
Override global setting when necessary
Tabs can be specific to products or categories
4. WooCommerce Tabs Pro: Extra Tabs for Product Page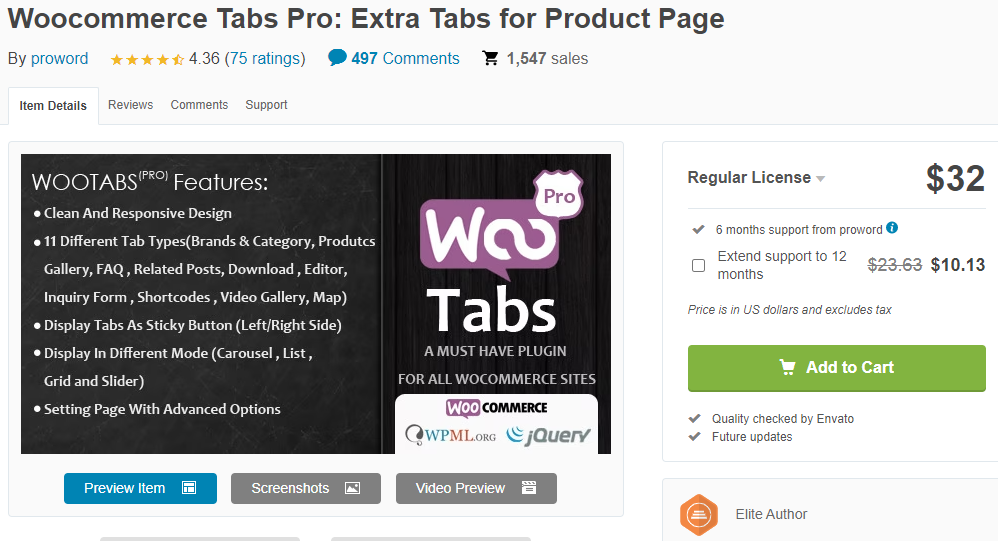 Like our previous suggestionWooCommerce Tabs Pro: Extra Tabs for Product Page allows the user to create global or individual product tabs. It includes a plethora of different tab categories that other plugins typically do not have by default, such as brand information, other products, related posts, and so on.
Also, it makes it ideal for clothing or cosmetic stores. The overall initial design of the tabs is also quite sleek from the get-go, but they are customizable as well. The plugin is available at Envato Market for $39 and an extra fee of $10.13 if you wish to extend the support to a full year.
Features:
It comes with 11 different types of tabs
Offers a variety of tab display options
The ability to add animations and experiment
Free Custom Product Table Plugins
1. Custom Product Tabs for WooCommerce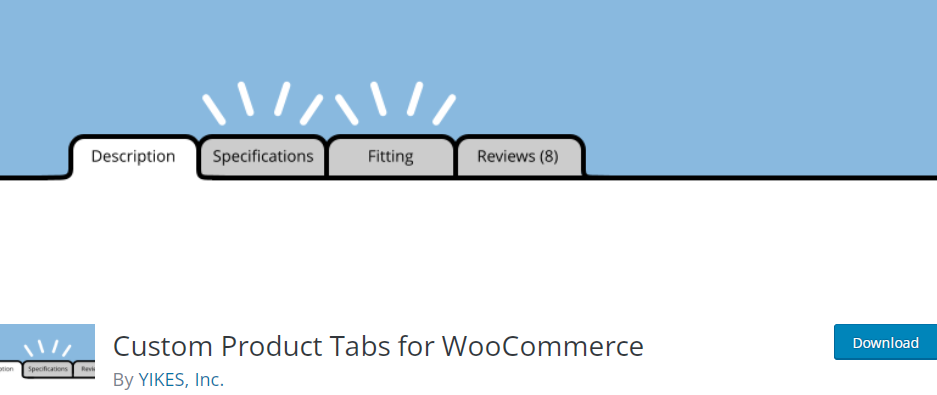 Custom Product Tabs for WooCommerce is a simple plugin that allows users to add custom tabs to products. The tabs are displayed next to the description page, and you can add them on a per-product basis.
There's also an option to create your own "Saved Tabs" and add them to products as needed. Also, you can easily manage every single tab, rearrange, or edit. As we said, pretty straightforward, but it does its job just fine.
2. WooCommerce Product Tabs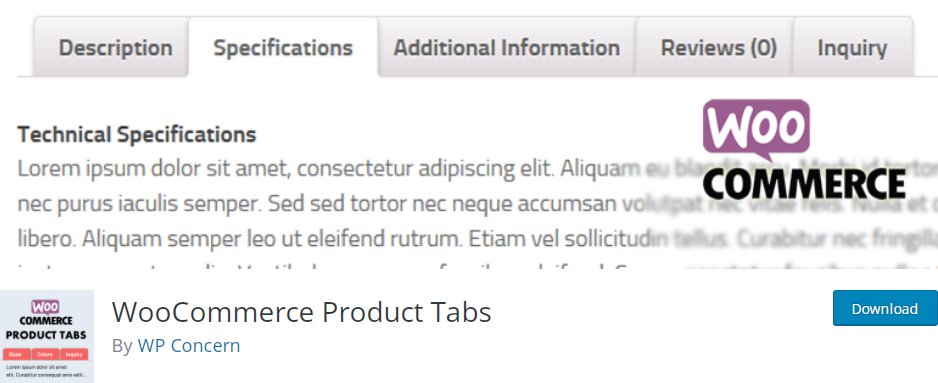 WooCommerce Product Tabs is a great free WordPress plugin for adding custom product tabs to your WooCommerce store. Using it, you can add as many custom tabs as you want – there are no limits whatsoever. The plugin also adds the standard WordPress WYSIWYG editor for every single tab you create.
In addition, it sports some features rarely found in free plugins of this sort, such as shortcode support, adding images, embedded codes, and HTML. Once again, you can create a tab and add to all products or pick and choose where you need it.
Reordering is also made simple by a traditional drag-and-drop editor. Overall, this plugin is simple, easy to use, and includes helpful customization features.
Final Thoughts
Custom product tabs allow your customer to make an informed decision. The benefits of this are two-fold. Not only will the products sell better, but you will also have fewer returns due to the likelihood of customer satisfaction being higher. Customers trust you more; they buy more, get what they expect, and don't return it. It's a whole win-in situation.
Furthermore, don't worry if you don't yet have the budget to go for something fancier with more functionalities. We also suggested some excellent free options, so you can choose whatever best suits your needs and budget. Simply choose one, put some elbow grease into it, and you're ready to go.