It is vital to keep your website active. Do you know how you can achieve or improve this activity? Have you ever wondered how to keep your website visitors and convince them to take specific action within your website? If the answer is YES, the following text will tell you something about that.
What is Call-To-Action (CTA)?
CTA or Call-To-Action is pretty self-explanatory, a call to action. We use this feature in the situations mentioned earlier. Any element of your page (button, text, link) that causes a user to do something can be CTA. Also, this may include further research on the website, filling out the contact form, subscribing to the newsletter.
Even buying products or any other activity. CTA dramatically helps in increasing the click-through rate. It is also essential to your SEO because it makes your site easier to find for search engines.
If you want your CTA to be compelling, it must be in the right place and finely designed. To make it easier for you to create them, you can try using some of the Call-To-Action plugins for WordPress.
Below, we will list five of them that we use the most.
1. Ultimate Blocks
Ultimate Blocks is a Call-To-Action WordPress plugin specially designed for bloggers and content marketers. It expands the efficiency of the WordPress block editor by adding additional blocks, including the CTA block.
The CTA block allows you to create a Call-To-Action box. Everything inside this box is customizable: text, font, text size, background color, border color, etc.
In addition, there is a Button block that allows you to add Call-To-Action buttons that are more advanced and offer more options than the default buttons. Furthermore, there are also:
The Click to Tweet block
The Social Share block
The Countdown block, and many more.
And lastly, but not less important, it is entirely free.
2. Simple Side Tab
Simple Side Tab is another, more straightforward way to create a CTA. It is based on a simple vertical tab located on the right or left side of the website. Vital information is that the element is sticky and always visible as it follows the page's scrolling.
Like the previous plugin, this plugin also offers specific editing options such as changing text, font, or color.
Also, you will be able to link this tab to any other page of your or someone else's site. The plugin is mobile-friendly, which means you can easily optimize it for mobile use. As the name suggests, it is easy to implement and set up. This plugin is also free of charge.
3. WP Notification Bar Pro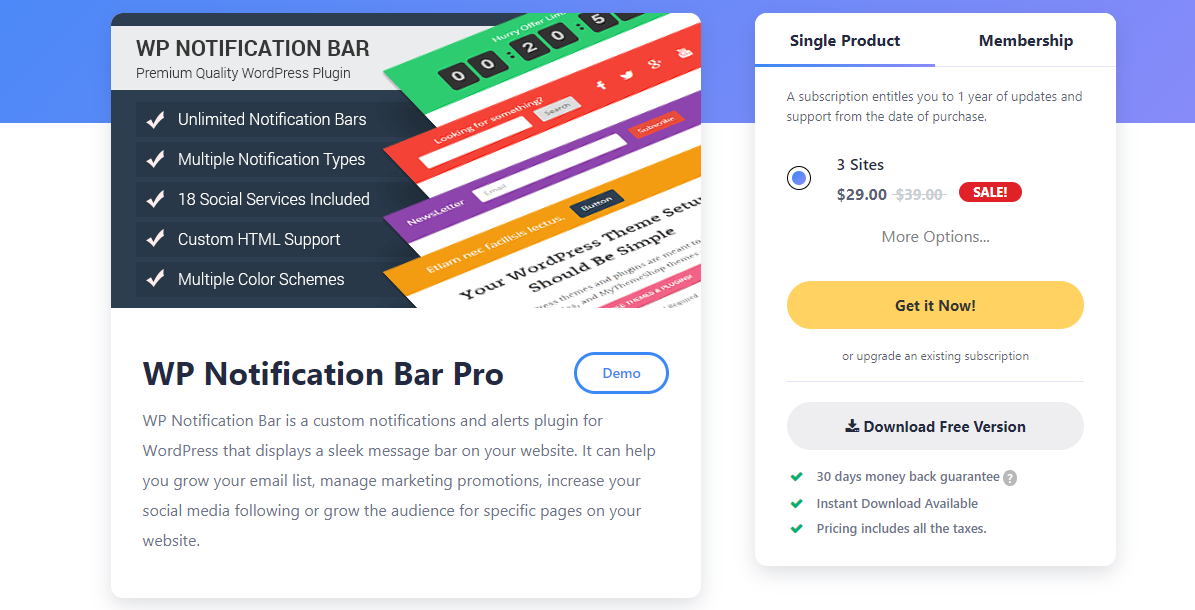 WP Notification Bar Pro has its main focus on creating notification message bars. The plugin includes many different types of notification bars:
Text and Link
Post Content
Subscribe Box
Social Media Follow
Countdown Timer
Search Form.
The WP Notification Bar Pro has 14 pre-defined color schemes, but you can edit colors as you wish. The number of creating notification bars is unlimited. We can categorize this plugin as 'lightweight.' Which means that it does not affect the performance of your website much.
It supports the ability to choose from 18 different social networks. You can decide which pages/posts will display notification bars. Also, you get to determine how many times, for how long, and on which page these notification bars will not appear.
You can download the free version for 30 days. The price ranges from $19 to $29, depending on the package.
4. Elementor Pro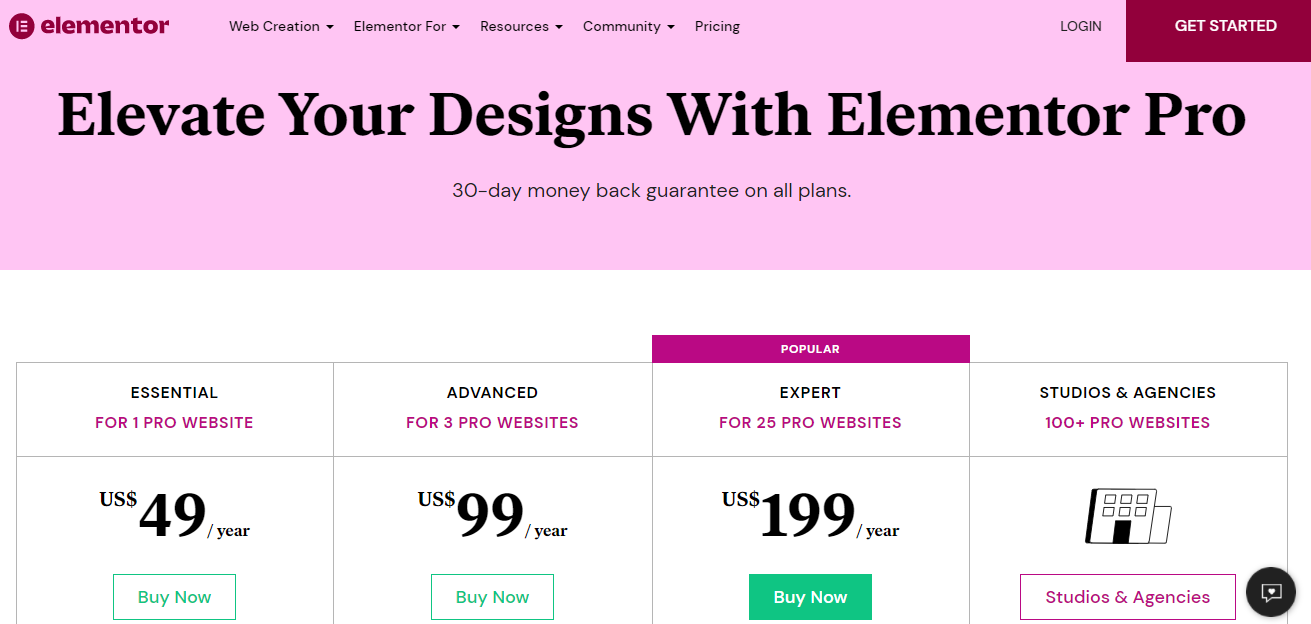 Elementor Pro is a visual, drag-and-drop CTA plugin that allows you to create many different types of CTAs. It is one of the most popular WordPress plugins. In addition to many features, the so-called Popup Builder stands out. With this feature, you can implement:
Lightbox pop-ups
Slide-ins
Notification bars
Screen fillers.
However, there are also two useful widgets:
Form – allows forms to be created and linked,
Countdown – which creates a counter and creates an atmosphere of urgency.
The design is highly flexible, which is a huge advantage. As with the WP Notification Bar Pro, you can create pop-ups for specific pages with specific duration and number of repetitions.
Also, you can enhance its functionality by allowing the creation of Landing pages, In-content CTA boxes, and more. The variety of Motion Effects and Mouse Effects is enormous. Furthermore, they will provide you with premium support. The disadvantage of this plugin is analytic.
The base price is $49 for one year and one website.
5. Thrive Suite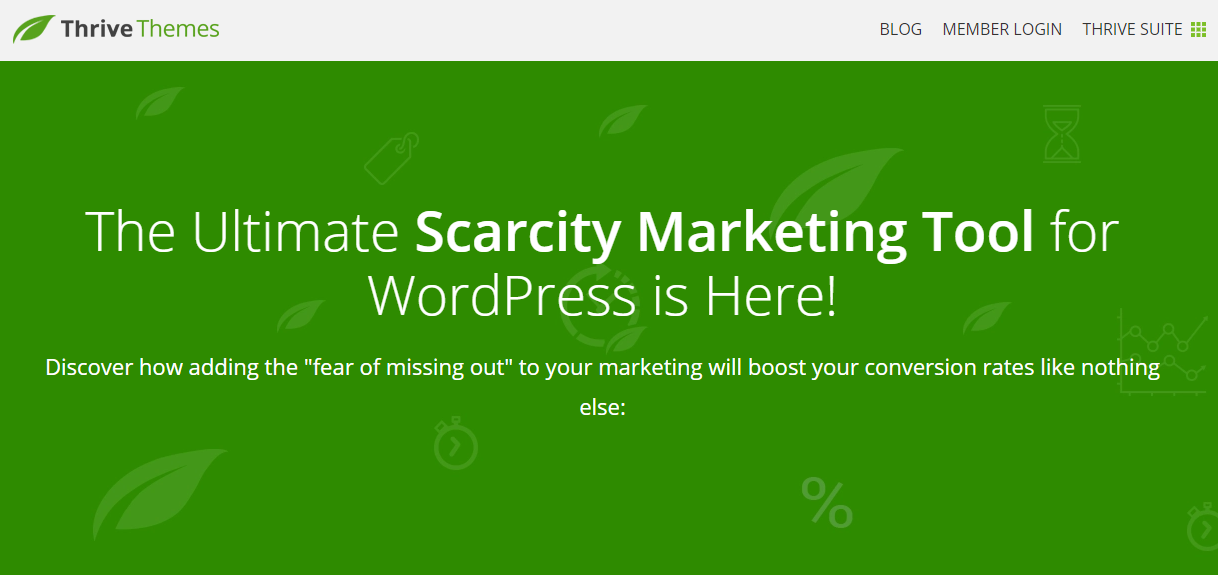 Thrive Suite is one of the plugins from the Thrive collection. What's convenient is that by using Thrive Suite, you also get access to other Thrive plugins like:
Ultimatum
Leads
Theme Builder
Quiz Builder etc.
The primary method used by this plugin is urgency. Within the plugin, everyone who tries it uses mainly two elements—so-called Regular fixed date scarcity campaigns and Evergreen scarcity campaigns.
With the Evergreen timer, you can create a special timer for each visitor, which will not depend on other timers and apply only to one specific user.
It comes with many pre-made templates that are easy to customize by using a simple visual drag-and-drop editor. As it supports multiple trigger types, you will be able, if you want, to create offers only for a specific group of visitors, for example, for first-time users, for premium users, for users with special access, and so on.
There are other features like a large number of Widgets, Floating Header Bars, Floating Footer Bars. Everything is responsive and usable on mobile devices.
The tools you will be able to use you can look up in the picture above. The price is $19/mo with the option of 30 free days, unlimited support, and the possibility of using it on up to 25 websites.
Conclusion
That would be a list of five handy and practical CTA plugins. As you've noticed, we've sorted them based on price, but of course, features as well. You can download all of them from the links that we provided throughout the article. Good luck with picking the one for you!