Customer spending for gifts around the holiday season can account for around 20% of a retail company's average annual revenue. Retail sales during the 2021 holiday season grew to $886.7 billion, 14.1% higher than 2020 sales. Last year's figures set a new record for overall holiday sales, while online and non-store sales rose 11.3%, reaching $218.9 billion.
These staggering numbers show how crucial it is for a retail company to make the most of the holiday season and optimize its marketing to get a piece of the action.
Since people are already in the mood to buy all kinds of things during the holiday season, converting leads into sales for Christmas is much easier. This article has covered ways you can do this with email marketing!
Putting the Odds in Your Favor with Christmas Email Marketing
One of the secrets to a successful holiday season for online retailers is to create and send beautiful email campaigns to customers. Using email marketing efficiently will help you boost your sales for Christmas, which is why we covered some critical Christmas email marketing tips below:
Pre-Christmas Email Campaign
Pre-Christmas email campaigns help get customers into the holiday spirit.
Nurturing your subscribers and getting them invested in your Christmas deals is essential. This is the stage where you get them excited and encourage them to start preparing with the following:
Wishlist Emails
Customers may be more inclined to buy things off their wishlist during the holiday season as a treat for themselves.
An email reminding customers to make a wishlist in preparation for Christmas can be a very effective way to introduce your holiday sales and get customers excited about them.
Suggest products customers may be interested in so they can add these to their Christmas wish lists.
Try to create fun Christmas ads and graphics to evoke the holiday spirit, and make sure to send out these emails well before the holiday season.
Offer personalized suggestions for wishlist ideas based on specific customer preferences.

Inform customers of the most popular items on people's wish lists.
Give customers insight into future trends they may want to prepare by adding certain products to their wishlist.
Gift Guides
Send out gift guides before Christmas to give customers ideas for gifts and entice them to make a purchase. You can use PosterMyWall to create fun graphics for visually appealing gift guides that are informative and attractive.
These can lure customers to your store and encourage them to purchase their loved ones.
Include options for different ages and demographics.

Include standard go-to options and unique products that may not be mainstream gift ideas.
Offer different ideas at varying price points.
Suggest gifts that customers can buy several of to gift people they aren't close to.
Include practical gift ideas for coworkers, such as stationery, office accessories, and other items.
Christmas Email Campaign
Christmas is a busy time for people, and they may not check their inboxes much, so it's vital to ensure that your Christmas emails stand out and grab their attention.
This phase of your Christmas marketing should immediately follow your pre-Christmas marketing email and include the following:
Reminders to purchase products on their wish lists during the pre-Christmas campaign.

Discounts and limited-period offer for last-minute buyers.
Emails that create a sense of urgency with CTAs, such as "Last chance to get your Christmas gifts delivered on time – order now!"
Post-Christmas Email Marketing
Contrary to popular belief, Christmas shopping doesn't end on Christmas day since the holiday season is still in full swing. People may celebrate Christmas late with a different group or even decide to purchase gifts for late Christmas and New Year celebrations combined.
So, holiday shopping doesn't immediately end with Christmas. In fact, 48% of Americans are interested in post-Christmas sales to complete their remaining holiday shopping.
Your post-Christmas email marketing campaign should, therefore, be designed to keep holiday spirits up and the shopping momentum going:
Thank You Emails Wishing Customers a Happy Holidays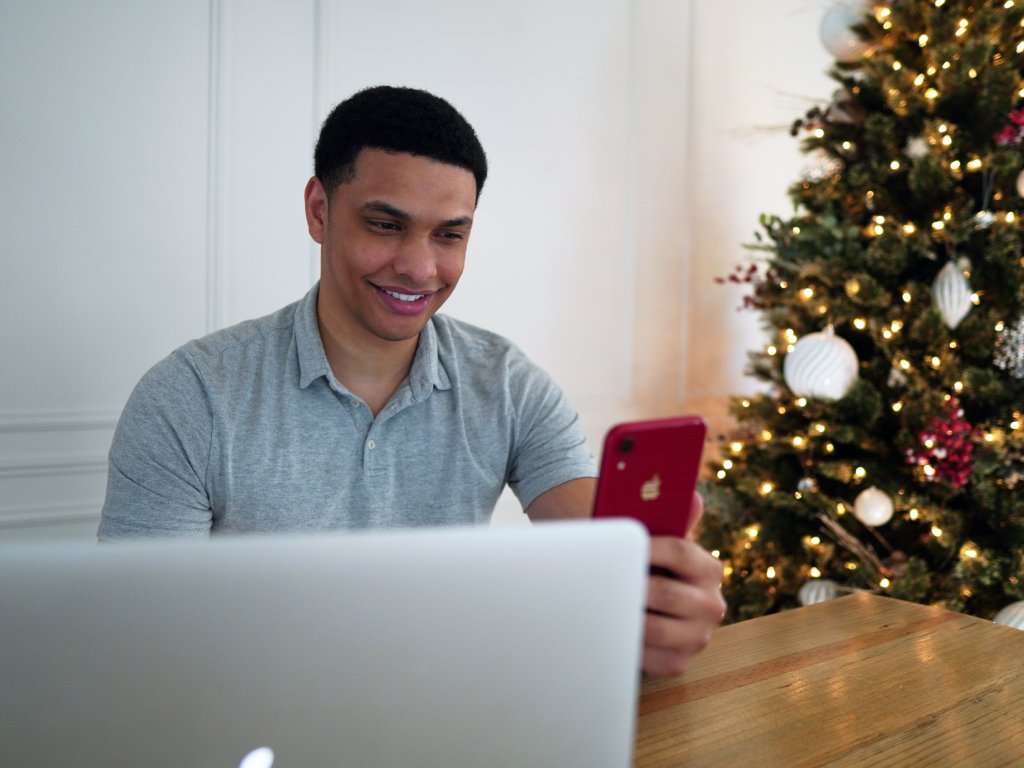 Wish them a happy holiday and send emails thanking customers for their loyalty and shopping with you.
You can also squeeze CTAs in these emails so customers feel appreciated and tempted to make another purchase.
Special Offers and Discount Emails
Offer regular customers special discounts to sweeten the deal. Give special limited-time offers for those who order certain products on specific dates.
This very versatile email strategy can be used in various ways. The general idea is to make the most of the holiday spending mentality to boost sales.
Stock Clearance Emails
You may have some leftover items you hoped to sell during Christmas but could not. You can use the remaining holiday season to sell these items if you properly leverage the power of email marketing.
You can rely on your usual tactics to market clearance items or make it sound like it's the last chance for customers to have them before you run out or the year ends.
Regardless of your messaging, you should use post-Christmas emails for additional sales and eliminate leftover inventory.
Conclusion: Prepare Early and Tweak Your Marketing as You Go
With over 4 billion email users checking their emails daily and a 4,200% return on investment, email marketing is a very effective marketing tool that generates a lot of revenue for retailers.
Here are some additional tips for setting you up for success!
Start Pre-Christmas marketing earlier rather than later. Most people begin preparing for the holidays well in advance.

Don't forget to prepare post-Christmas marketing and sales emails.
Study customers' purchasing habits during Cyber Monday and Black Friday to understand what to expect during the rest of the holiday season.
Don't be afraid to tweak your strategy as you go and study the responses you get throughout the season.
Align your campaign to focus on customer groups that generate the most sales.
Maintain a consistent Christmas theme in your email content, be it images, GIFs, illustrations, or color schemes.
Now that you know which tactics to employ in your Christmas email marketing, you're all set for an excitingly profitable end-of-year season!