If you sell digital goods on WordPress, you are undoubtedly aware that your consumers will need a mechanism to confirm their purchase and get their goods. Shopping carts and embeddable plugins are examples of such technologies.
Because they make it easier for customers to gather various digital items and check out with whatever they want. Fortunately, there are a plethora of WordPress eCommerce options for selling digital files available.
However, before we continue with our topic we want to mention WPMU DEV.
WPMU DEV's all-in-one platform makes it easy for anyone to create, manage, and sell websites. Get 20% off any of their plans. We advise you to visit their site and see it yourself.
Further in this list, we've included a few options you can choose from several plugins. You can exactly discover what you need since some are comprehensive eCommerce systems and others download managers.
The finest WordPress digital download plugins are listed here.
1. Easy Digital Downloads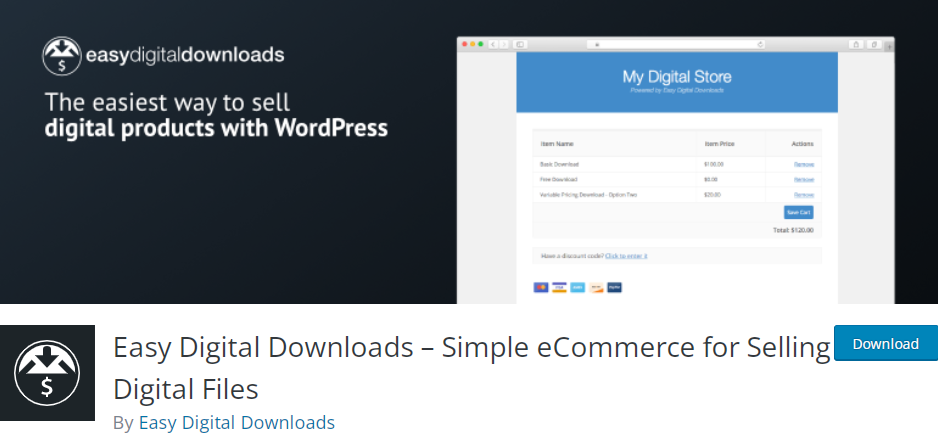 EDD (Easy Digital Downloads) is a specialized plugin that will readily manage all types of downloadable items. With this application, you can quickly sell PDF files, eBooks, and even WordPress plugins on your website.
Easy Digital Downloads, or EDD, is widely regarded as one of the best WordPress plugins due to its sole focus on digital file distribution. Unfortunately, you lose in other ways what you gain in software.
For example, because support for this plugin is already scarce, EDD's response is to charge a staggering $299 per year for online-only priority assistance—that's a lot of money. Finally, payment gateways for a single site are relatively costly.
This plugin offers you a great variety of unique features such as file access control, additional extensions, discount code manager, customer management, and so on.
Unfortunately, there are a few things that if you want some of the features, you need to compromise. For example, if you want those additional plugins, they can be pretty expensive. Also, it is a lot more technical than other plugins, so it might be a little hard to use it at first if you are a beginner.
2. Download Monitor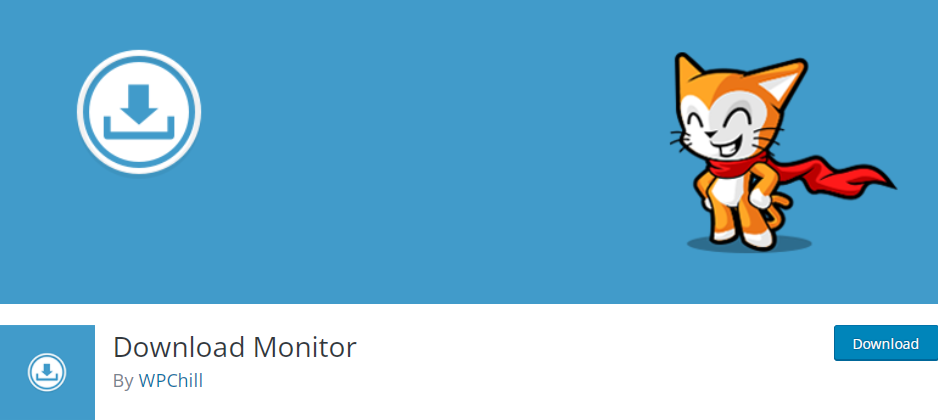 Download Monitor is a lightweight plugin that allows you to manage all the files on your WordPress site, including the sale of digital downloads through the PayPal service. It is not only adaptable, but also it is effortless to use.
This plugin provides a variety of options for managing downloaded files on your WordPress site. Depending on your needs, you can sell downloads or offer them in your blog entries. It is entirely compatible with the new WordPress block editor because it is a customized plugin block.
You'll be able to upload numerous versions of your downloaded files to your account, each with its tracking options. Shortcodes will also allow you to display downloads on the interface.
This plugin by itself is free. It includes file version management as well as a clean and straightforward interface. Like Easy Digital Downloads, extensions for this plugin are expensive, but you can get a better deal if you bundle them together.
3. Paid Memberships Pro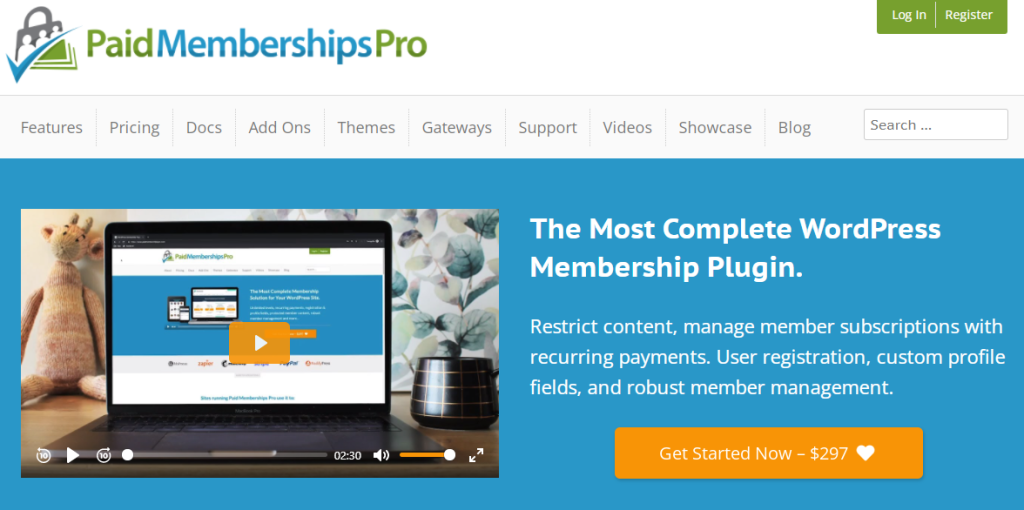 A Patreon-style subscription or membership level is an innovative method to offer digital files. Paid Memberships Pro is a membership management plugin that you can use to manage memberships on premium content sites, clubs and organizations, subscriptions, and newsletters, among other things.
Downloads, events, courses, videos, forums, and different custom post types are all secure. Also, it is vital to point out that members can purchase specific pieces of content, one-time access, or a single category. Allow members to drip feed a series of content on a set schedule.
This plugin allows you complete flexibility over whether you want single or recurring payments for your content.
Paid Memberships Pro also offers some unique advertising possibilities. You can, for example, choose to show advertisements only to specific membership levels while hiding them from others. For instance, you could limit advertising to free membership levels while hiding it from premium memberships.
Finally, there are several connectors with email marketing providers and payment gateways included in the plugin. Paid Membership Pro is 100 percent GPL-licensed, so you may alter its code as much as you like.
4. MemberMouse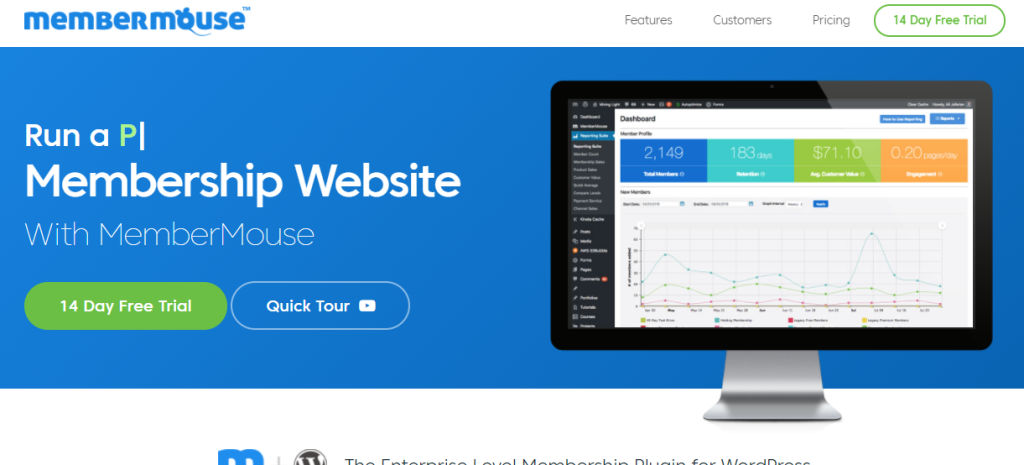 If you want to get probably one of the most feature-rich membership plugins available today is, that should be MemberMouse.
To begin with, MemberMouse allows you to establish membership levels and bundles. Bundles allow you to sell individual posts/pages (or groups of posts/pages) on a one-time basis, which is something you wouldn't anticipate from a membership plugin. So, for example, you may sell a one-time special offer to existing premium members.
You can also use MemberMouse to dribble out your restricted material. They also have an essential feature that allows you to enjoy your course as if you were a member.
You may modify the "age" of your test account manually to see things as new subscribers would. It also contains a widget that shows users what material they now have access to and what restricted stuff is still on the way.
MemberMouse allows you to limit material based on posts, pages, custom post kinds, and categories. It also comes with a slew of helpful optimization options. Prices may be split-tested, as well as upsells and "save-the-sale" downsells. All of this we mentioned is included in the main plugin.
5. S2Member
A popular free membership plugin is s2Member. For a free plugin, it contains a remarkable number of functions. However, they are limited. This plugin is excellent for collecting email addresses from users in return for digital downloads.
The plugin is straightforward to use; all you have to do is include a shortcode that contains the file's download link. Posts/pages, custom post types, and categories can all be restricted as usual. s2Member, on the other hand, has a few additional helpful limitation mechanisms.
BuddyPress, specific URL fragments, and specific content chunks within entire posts can all be restricted. Also, there is the option where you can also limit file downloads and streaming media. Email templates, configurable login welcome pages, IP limitations, and brute-force defenses are all included.
Unfortunately, the free version is restricted to four paying membership levels and does not allow for the creation of coupon coupons or drip material, among other limitations.
Conclusion
We hope this blog post helped you understand how these plugins work or introduced you to the topic of digital downloads. If you want to improve your website, you need to check them out and try them for your business.