Accounting, bookkeeping, and invoicing are significant parts of organizations of all sizes and shapes. With the appearance of technology, bookkeeping and invoicing have been digitalized, making it easier for companies to record their accounts.
Simple accounting software was the beginning of digital bookkeeping. Today, we came up with solutions that store everything in the cloud. There are many tools we can use for invoicing, and here are some of our favorites.
1. QuickBooks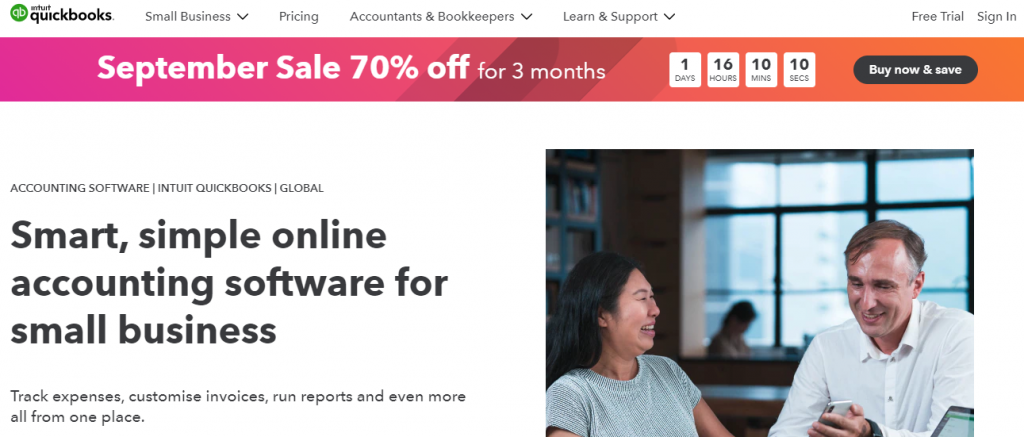 Good financial management is one of the essential support of a successful business. So, only a company that successfully manages its finances can survive and grow in the market, and poor money management leads you to ruin.
The QuickBooks application takes care to ensure quality cash flow and stable financial condition. This application makes it possible to track all the costs that your business incurs. You can even track the profit that it provides thanks to successfully implemented and charged projects.
With the QuickBooks application, you can connect to various accounts in charge of finances, for example: with a bank account, with credit cards, with PayPal, etc.
Also, this app will provide you always be aware of the bills that you have to pay. It will even notify you how much money you will need to cover all of the expenses. By aggregating all financial data in one place, you will get a better insight into the financial condition of your business.
However, that will result in better control over finances. You can use QuickBooks on various devices and operating systems. So, do not wait for your business to run into problems. Ensure a healthy financial situation with this quality app.
2. FreshBooks

An application similar to the one previously described is FreshBooks. Admittedly, we can say that the focus of this application is somewhat different. FreshBooks allows you to dedicate yourself to the income and expenses brought to you by an individual client. Therefore taking everything to a higher level.
We can say that the FreshBooks app is designed for small businesses that want control over their customers. But also those who want to control over cash flows within their company.
Within the application, it is possible to create requirements for each client to charge for costs and the costs incurred during a particular client's project. Thanks to this, you can easily control where the money comes into your small business. But you can also control where you lost it in business growth.
Thanks to the FreshBooks application, you will be able to manage projects, cash flows, and the business as a whole better and better.
3. Invoice Ninja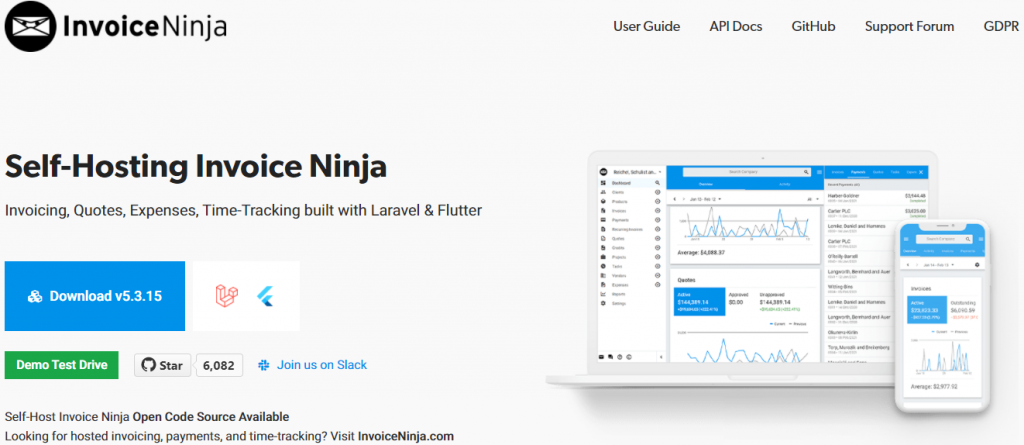 Invoice Ninja is the first open-source platform to create and email invoices, accept and track payments, expenses and vendors, time billable tasks, and projects for clients. It is the leading small-business platform for invoicing, designed for freelancers and small businesses.
Invoice Ninja has one huge task, to serve freelancers and business owners with a complete suite of invoicing and payment tools to advance their business. You do not need to use Word or Excel docs anymore for creating your invoices.
With this online tool, you can send beautifully branded invoices with a minimum of effort and maximum professionalism.
You can find a time-tracker app include in Invoice Ninja too. With Invoice Ninja, all your earnings, expenses, clients, and vendors are stored and managed in one system. You can categorize them or run expense reports.
Also, you can create projects and individual tasks per project. These features join to help you obtain the money you deserve and reduce the amount of time you spend on repetitive invoicing tasks.
4. Zoho Invoice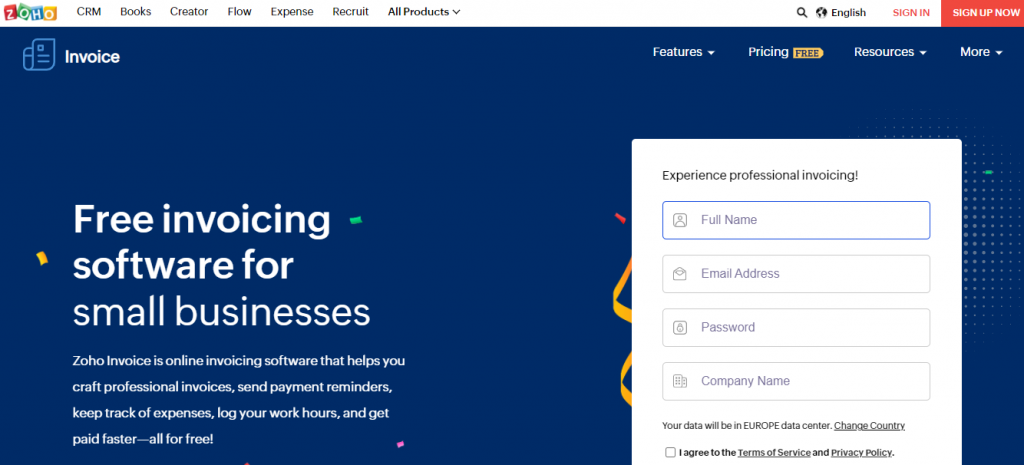 Zoho Invoice is online invoicing software that assists you in crafting professional invoices, sends payment reminders, keep track of expenses. And you get all that for free!
With Zoho Invoice assistant, you will save hours per every client. You do not have to go back and forth with the spreadsheet or re-enter information. A simple payment process helps you get paid on time.
Also, this online invoicing tool provides you multiple payment options that your customers can choose from to make their payments securely.
Zoho Invoice enables localized payment gateways and accepts credit cards, bank transfers, cash, and checks. It also has two excellent features more. With Zoho Invoice, you can accumulate recurring payments automatically, and data security and privacy are the bases of Zoho.
5. Indy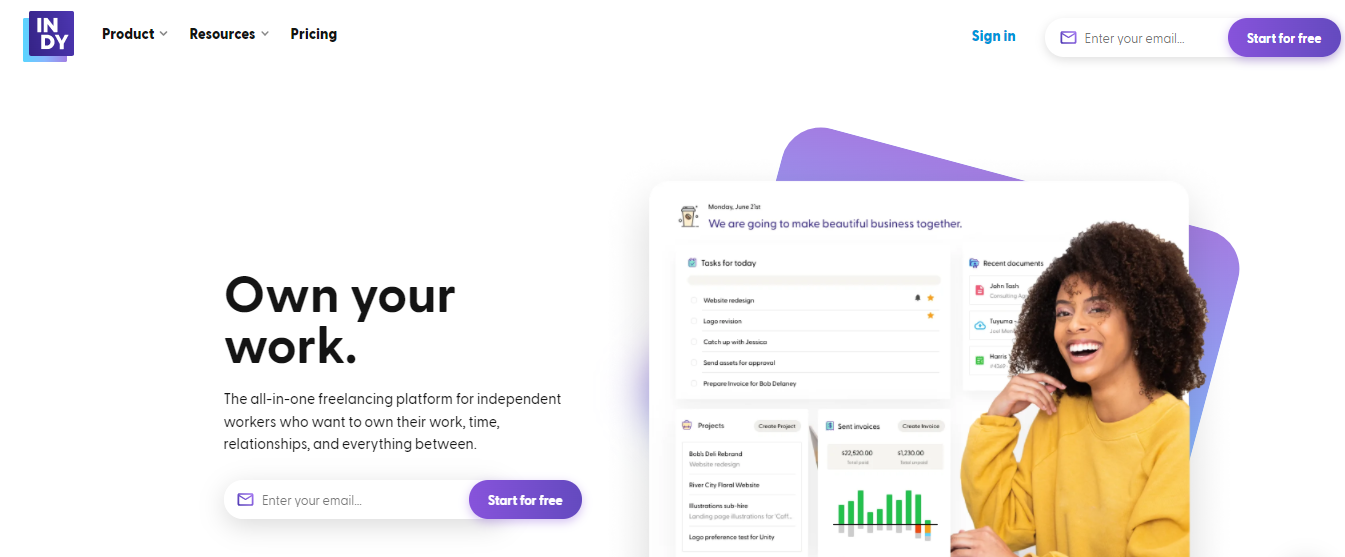 Indy is a freelance admin platform designed to help independent contractors create, send, and manage invoices. The simple interface allows you to create professional invoices in moments.
Since Indy is an integrated platform, you can bring info from your Contacts list to complete the invoice faster. Track your working time with Indy's Time Tracker and your time tracks can be added to any invoice with just a few clicks.
Once you send your invoice, clients can pay with popular payment methods such as PayPal, Zelle, Stripe, and other card payment gateways. You can also set up recurring invoices easily to bill clients each month for your services.
For freelancers, solopreneurs, and independent contractors, Indy is a great platform for managing all your work and project admin in one place.
Conclusion
Creating an account using standard tools such as Word and Excel take a lot of time. In addition, you may forget to send invoices on time, and your customers are expecting them.
Such mistakes can lead to misunderstandings with business associates and negatively affect business relationships. Invoicing software can help you avoid such situations.
It is essential to add that you have a high risk of miscalculation costs when traditionally invoicing. Just one wrong figure can cost you large sums of money and result in the loss of a business partner. So, test one of these great tools mentioned above and enjoy the benefits they offer you.