Adding banners to your site is an excellent way to show off special deals and promotions or add ads without distracting or taking up too much space on your page. They can be very effective as part of your overall marketing strategy, but they need to be the right size, eye-catching, and enjoyable to be successful.
Also, one of the crucial things when owning a website is making sure that you have a quality hosting platform that will help you significantly.
WPMU DEV's all-in-one WordPress platform combines multiple tools and licenses into one – allowing you to save money and streamline your development workflow. Get 20% off any of their plans.
If used correctly, banners and banner ads can truly help you boost sales over time, so stick around to read up on the best free banner plugins WordPress has to offer.
1. Simple Banner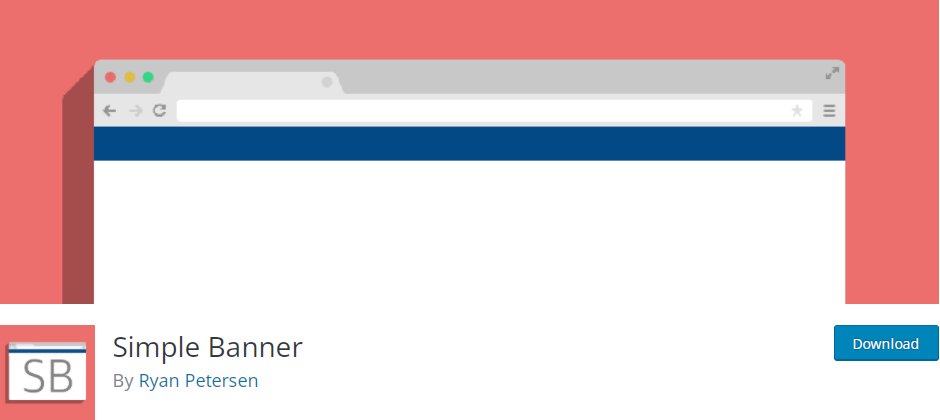 Check out the Simple Banner plugin if you're looking for an effective way to display banner ards and don't want to put in a lot of time creating one.
Simple Banner will give you everything you need for building and uploading banners so you can easily display your promo or discount ads.
This plugin is simple to install, use, and adjust so that anyone may make use of it, no matter the skill level. The plugin has a surprising number of customization options for a free tool, so if you like to tinker, give this one a look.
This means that you can quickly change the colors of your links, messages, and the bar's background from the settings menu. If the plugin's default CSS isn't sufficient for you, you can add your own.
Finally, because Simple Banner comes with a neat preview feature, you can double-check everything is top-notch before putting it up.
2. CM Pop-Up Banners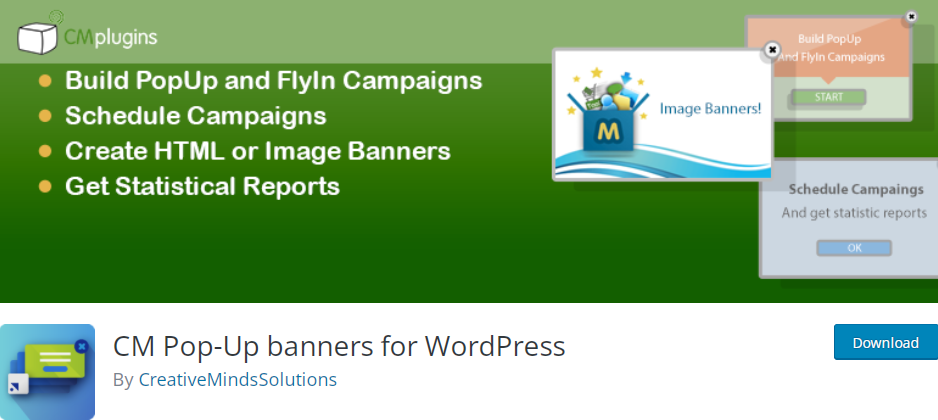 Just like your good old classic banners, you can display popup banners on specific pages to promote offers, special events, discounts, what have you. And, you can easily add one to your site using CM Pop-Up Banners. You can also customize not only that but the banner to a tee.
Additionally, you can choose where you want your banner to appear, the arrangement of your banner, the size of your banner, and so on. You can use this handy tool to position your popup banner at the top, middle, or bottom of your website.
In addition, you can use an image, a video, or a solid color as the background of your popup banner. Furthermore, the plugin allows you to measure banner clicks and impressions, build defined ad campaigns, expand your email list, and much more.
3. WooCommerce Banner and Carousel Slider for Category, Page
Rule number one is to place banner ads correctly to use them to their full potential. When it comes to running a promotion or launching new collections, an eye-catching banner can truly make or break the deal.
WooCommerce Banner and Carousel Slider is a plugin that allows you to add or upload banner/carousel sliders to your store pages, user carts, checkout page, and so on.
Because this plugin was designed with responsiveness in mind, you can be confident that adding a banner will not detract from your site's navigation or overall appearance.
If that isn't enough, there is a PRO plugin version available that allows you to plan your campaign's start and end dates in accordance with the banner.
WooCoomerce Banner and Carousel Slider also have a preview feature that will enable you to test your banners before launching the campaign.
4. Custom Banners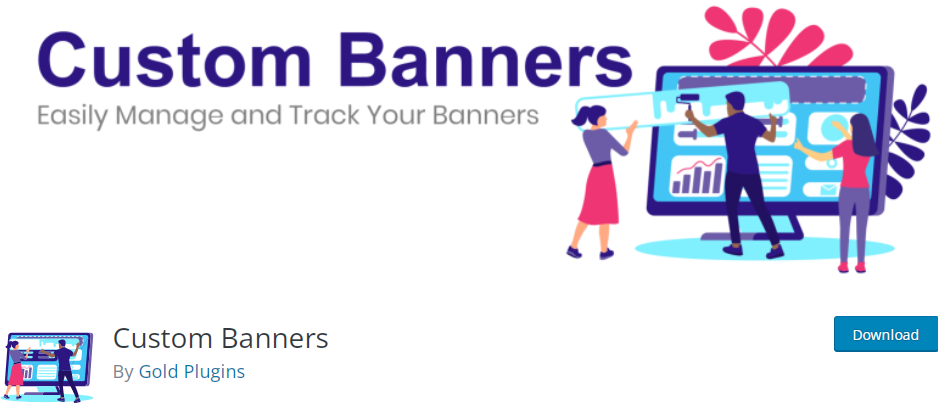 Custom Banners is a WordPress banner plugin that allows you to easily manage many adverts and build from scratch and display banners. Due to these features, this plugin is ideal for high-traffic websites because it lets you handle multiple adverts at once.
Once you've designed the perfect banner that fits your site, you are more than free to keep the design for good and only tweak the text as new offers come and go.
But, if that's not your thing and you still want some variety, you'll be happy to know that Custom Banners has a plethora of customization options.
Timetables are one feature that distinguishes this plugin from the rest. Create unique banner-specific schedules to monitor and publish the correct one every day. Using a shortcode, you can easily display your banners wherever.
Another intriguing feature is that it allows you to group your banners and add captions and CTA buttons to direct people to your landing page.
5. Random Banner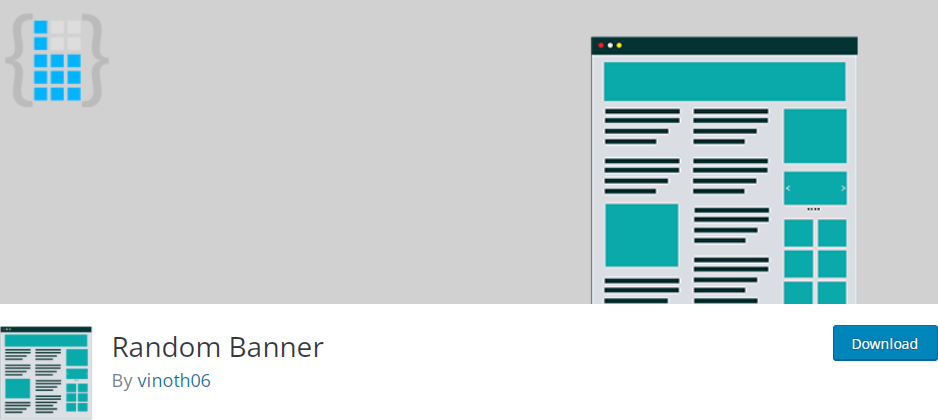 Random Banner is one of the top WordPress banner plugins because it's feature-rich and extremely easy to use. This plugin is also one of the most versatile ones, as it works with a variety of banner types and formats, including image, SWF, and script ads.
Furthermore, unlike many other plugins that only allow for top-page banner placement, Random Banner will enable you to place the banner anywhere you want. In other words, you can categorize your banners and put them in various locations and positions on your website's pages.
What's more, thanks to some pretty in-depth analytics, you'll be able to create a new banner for every campaign and monitor clicks or impressions. Not to mention the numerous customization options available with Random Banner.
This means you can freely change the background colors, border size, animation style, number of appearances, and other aspects of your banner to make it unique.
6. Hero Banner Ultimate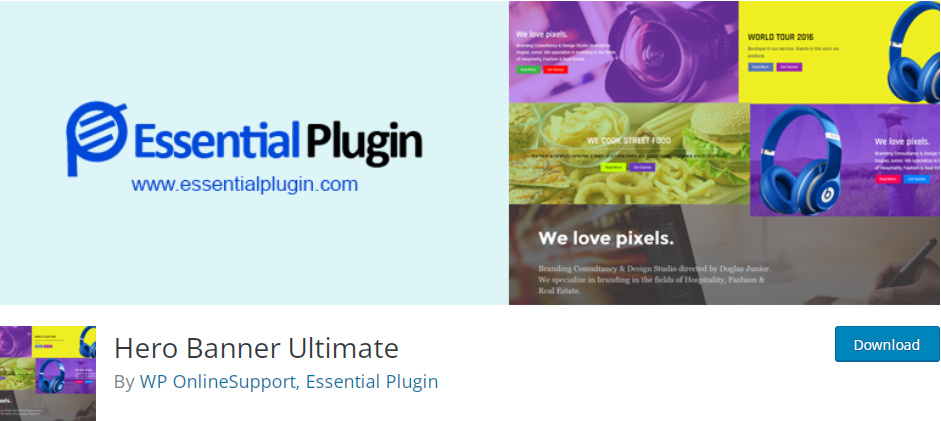 We'll finish today's list with a simple plugin called Hero Banner Ultimate. It's overall relatively versatile and customizable. You can even use the shortcode block to embed your banner inside the Gutenberg editor.
The banner can also be shown as a popup using a shortcode. So, if you're comfortable using shortcodes for an extra layer of customization, Hero Banner Ultimate is a solid choice.
Aside from shortcodes, this plugin has a plethora of other customization options. You can use it to change the background color, text typography, banner inner padding, banner overlay settings, CTA settings, and pretty much anything else you can think of.
The free edition gives you four layouts to choose from to customize the look of your banners. You can use colors, images, text, or video as a banner background.
However, while the banners made with this plugin are responsive, the plugin does not come with any extra mobile or tablet settings. So, make sure to double-check your creations before they see the light of day.
Wrapping Up
Hopefully, you've found today's helpful article. Any of the plugins we listed today will do a fine job; in the end, it all comes to personal preference and what your company needs.