Running an online store is hard work. Other than managing and keeping your website up to date and running, there are also other traps that many online store owners tend to face. Today, we will help you tackle one of these pitfalls by introducing you to a unique and versatile plugin.
When it comes to exporting orders from WooCommerce, be it for cataloging, making sure that everything is in stock, or so that you can better do your taxes. The manual method of exporting orders from Woocomerce is inefficient and time-consuming.
As a result, we recommend WooCommerce Order Export – PRO, a premium plugin designed to help you manage and export your orders quickly and easily.
We'll delve deeper into this plugin and examine its features to give you a better grasp of what it can do. We'll also give you a rundown of the various plans offered. If you're not much of a reader, this short video will provide you with a fair idea of how this plugin works.
How do You Export WooCommerce Orders?
When it comes to manipulating data, we'll be the first to admit that we're not the best at it. Also, we bring this up because it took us less than a few hours to figure out how to use this plugin; you can do it too. You need to go to the plugin page of your WordPress menu and find the plugin.
Once you click on the WooCommerce export orders plugin, you will see an export button that will let you download all of your data in a single click. The data will be exported in the CSV format but can be modified, making it suitable for use in many different programs other than Excel or Google Docs.

While the whole exporting process using the WooCommerce export orders plugin is quite easy. However, this doesn't mean that it lacks customization options. We definitely don't want to export the same data over and over again.
The best option is to explore the attractive UI and discover that the creators have included numerous tools that will allow us to customize, filter, and automate our exporting process. Let's run through all of them quickly.
Date Ranges
The first and most intuitive way to group and refine which order data gets exported is filtering our orders concerning dates. With a few most common date range options already built into the plugin, you can get this part done in seconds.
Of course, if you need to set a specific date range, you can easily do so by simply entering the dates into the empty fields, and you will be good to go.
Export New Orders Only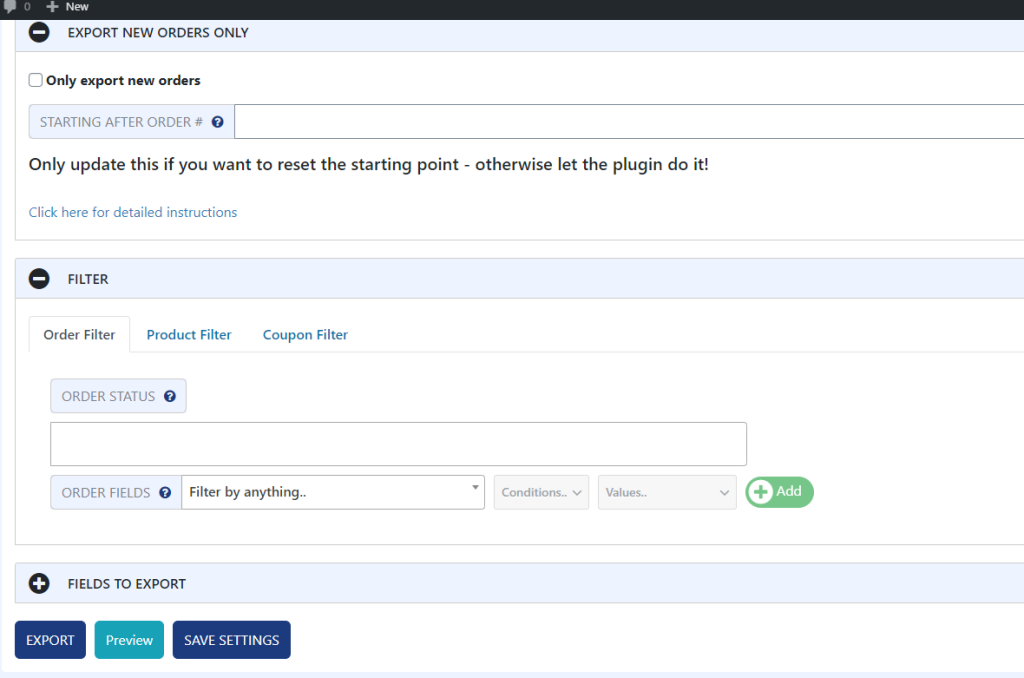 If the idea of having to set the date ranges manually doesn't appeal to you, don't stress out. You can always put it, so the program remembers and catalogs which orders have been exported already. Also, that way allows you only to ship new orders without any trouble.
Filters

Still, when further customizing what content gets exported, you need to navigate to the filters tab. In it, you will easily create additional filtering parameters for all of your orders, products, and coupons. The WooCommerce export orders plugin comes with a few basic categories, but you can easily add your own.
The plugin will automatically offer you extra options from a dropdown menu once you've done so and found the filter category.
For example, if you wish to filter orders based on the type of currency, once you select the currency modifier, the plugin will give you the ability to choose between dollars, euros, pounds, etc. Also, this makes the whole filtering process quick and intuitive.
Export Fields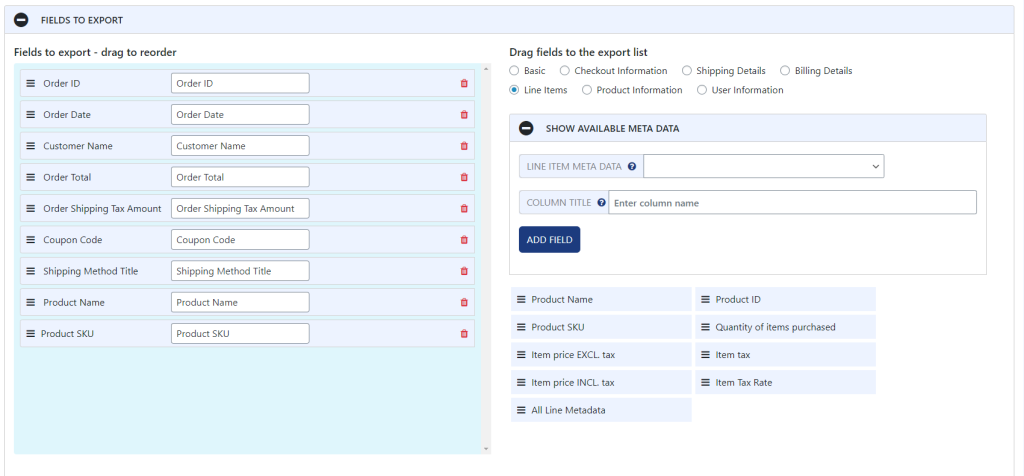 Now, this is arguably the most helpful feature that the WooCommerce export orders plugin has. By selecting the Fields to Export button, you can choose the exact order in which data is exported. You may easily add or reorder any fields related to your orders using an easy-to-use drag-and-drop list builder.
But the WooCommerce export orders plugin doesn't stop there, as it will grant you access to a bunch of additional metadata, which typically you cannot access within WooCommerce. Metadata like billing city and billing emails will be available to you without installing any other plugins.
While all of this is great, my favorite feature is undoubtedly the preview generator. Once you filter and reorder all of your data, you can click on the preview button. However, this will prompt the plugin to generate a preview of how your exported data will look like.
This brilliant but easy addition can save you a lot of grief in the long run. Because you can quickly double-check that everything is in order before completing the export. Not to mention that this can be a huge time saver since no one wants to wait for the whole exporting process to finish only to realize that they messed it up, having to do it all over again.
Logs and Additional Features
While we went over all of the ways you can change the data you export, there's still a lot more to go through. Because this plugin allows you to accomplish some things that its competitors are unable to do.
First and foremost, if you navigate to the settings page, you will have full access to logs. Here you can see all of your input and output parameters concerning scheduled exports (we will mention this next, so don't worry).
When it comes to troubleshooting, this page is pretty useful. Because you can quickly import and export all of your settings, you'll be able to offer JEM Productions tech support detailed bug reports. Other than that, the settings page is pretty much bare, but not for long. It is vital to note that this plugin gets constant updates with new features and settings coming soon.
Scheduled Exports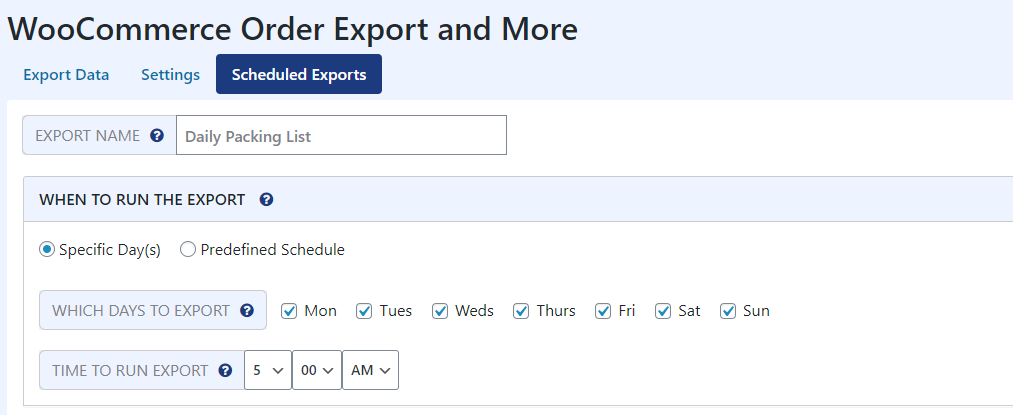 The last feature that we are going to mention is the scheduled export feature. While adding a scheduled export might seem trivial, it is one of the main reasons people love this plugin so much.
Depending on your needs, you can easily create a schedule that automatically exports data in certain intervals. Whether it be for cataloging all of the orders made in one day or getting information about customer location monthly. T
he WooCommerce export orders plugin has covered you. The possibilities are endless, and since the plugin doesn't lock out any functionality, you can create as many scheduled export protocols as you want.
Price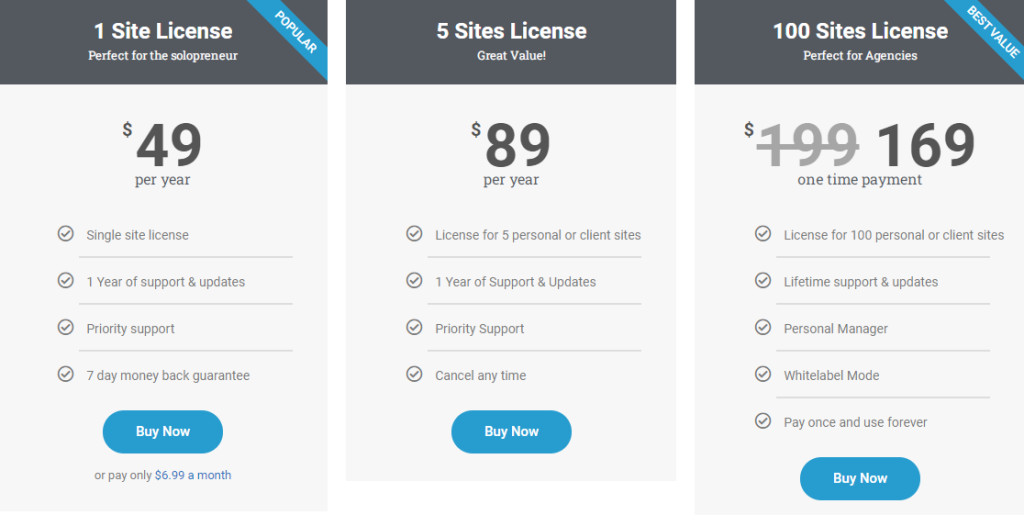 Before we wrap this article up, I think it's important to mention all the plans and price points. Now you can download the plugin for free from the WordPress website, but if you do so, you will only have access to a limited number of the previously mentioned features.
Still, this is great for anyone that is of the try before you buy mentality, and I would urge you to give this version a try before you decide to go for the premium one. When it comes to the premium version, There are three plans available to choose from.
The only difference between these three is the number of licenses that you will be getting. The regular plan that will grant you access to only one license goes for $49 per year, a steal for a plugin such as this. The other two options will give you access to 5 permits for $89 per year or 100 licenses for a one-time payment of $169.
Conclusion
When it comes to WooComerce plugins, there are a lot of them out there, especially when it comes to those concerned with exporting and manipulating order data. Still, very few of them do such a fine job as the WooCommerce export orders plugin.
As a result, we strongly advise you to give this plugin a try. Navigating and using this plugin is simple, thanks to its sleek and user-friendly design. Since you can go and download the premium version of the WordPress website is see no reason not to.