Comparison tables and product boxes should be crucial for every website and e-commerce store. Additionally, sites that want to show their memberships, packaging prices, price tiers, locations, and tuition fees benefit from these.
Tables and boxes are a terrific way to present product features and reviews and compare different products.
Because boxes and tables are of dire importance, finding a tool that will allow you to set up comparison tables and product boxes easily is pivotal.
At the same time, the tool shouldn't slow down the website.
How to create stunning comparison tables and product boxes that convert
The easiest way to do this is by using a toolkit that will do the job for you.
Indeed, a tool that creates comparison tables and product boxes should fulfill many criteria to be called terrific.
One of the best toolkits currently available is Affiliatable. This software helps you to create highly converting comparison tables and product boxes.
Here is the overview of this tool.
Affiliatable – At a glance
Best for:
Bloggers

Content Creators

Marketers
Alternative to:
Integrates with:
Amazon

Shopify

Wix

WordPress
Main features
It helps you create stunning comparison tables and product boxes that convert.

An easy-to-use tool that allows users to do everything from one place
Overview
This fully customizable tool allows users to personalize text, color, template, formatting, and CTA.
It comes with a vast number of options that allow that:
Pre-designed templates

Various CTA options that will enable the promotion of e-commerce stores other than Amazon

Amazon API integration

Preview of pages on desktop, mobile, and tablet

Global template change

Theme color customization

External links setting

Analytics of link clicks

Geotargeting
Some of the tables you can create with Affiliatable are the top 3 boxes that allow you to compare the three highest-rated products in a specific category. You can also create product tables to compare products from different groups with multiple CTAs.
You can also, for example, create a product box with a review of the product and add many CTAs and custom rating options.
Also, a rating box with the product's overall features and specifications rating is one of the options you can create using Affiliatable.
Regarding WordPress integration, Affiliatable offers data sync, geotargeting settings, data sorting, website API settings, analytics, and shortcodes for tables and boxes.
Pricing
You can get Affiliatable for $49 for a lifetime deal. The Affiliatable team also offers a 60-day money-back guarantee for new users.
Everyone who purchases the tool will get lifetime access to the software, as well as access to all future updates.
The Affiliate plan includes the following:
One website

150 boxes and tables

Geotargeting

WordPress plugin

Replace Tracking ID

Pre-designed premium templates

Schema Optimized

API integration for Amazon

1 team member

Custom categories

Live chat support

Copy function

Stack 1 additional code: 3 websites, 300 posts

Stack 2 extra codes: 6 websites, 450 posts

Stack 3 more codes: 10 websites, 600 posts

Stack 4 additional codes: 15 websites, 750 posts
Why should you use Affiliatable?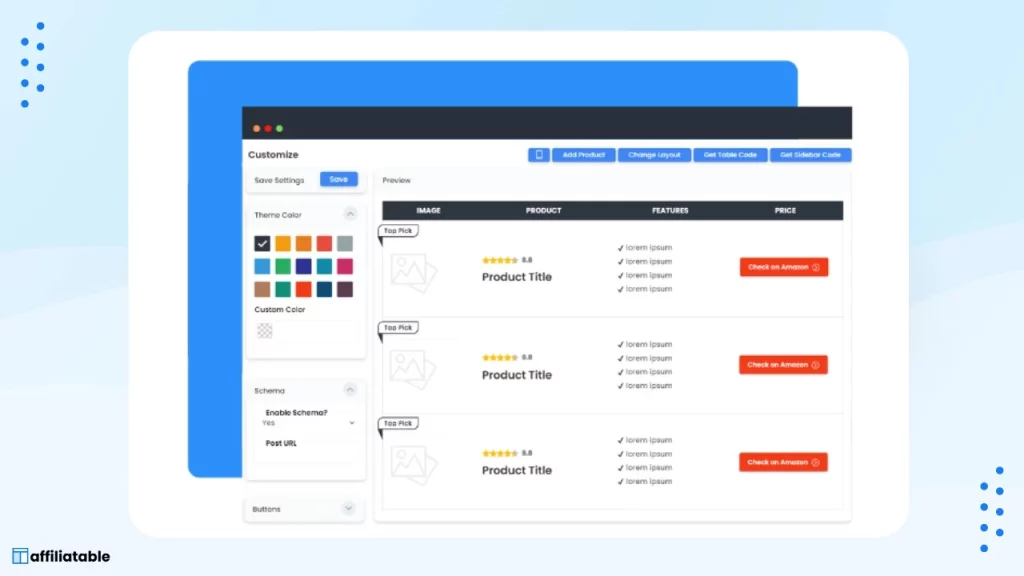 It is well performing and fast tool that doesn't slow down your website with unwanted scripts.

Affiliatable is straightforward to use. The tool only uses HTML and CSS, and you only need to insert the shortcode in your post.

It is an entirely customizable tool.

It works perfectly across multiple platforms.
Wrapping up on how to create stunning comparison tables and product boxes that convert
Comparison tables and product boxes are crucial for websites because they help compare products, give an overview of the best products, and sole product reviews.
It is unlikely site visitors read every piece of information about the product, so tables and boxes are the perfect solutions to help them absorb information quickly.
Affiliatable is the perfect tool to create stunning and converting comparison tables and product boxes because it comes with pre-designed templates and is fully customizable.
Also, the tool integrates with many platforms and will not slow down your website.
For the end, here are some quick facts about the tool:
Over 5000 successful affiliate marketers use this tool.

Affiliatable users reported a 12.6% increase in conversions.

Users praise the Affiliatable support team.

Over 100 new websites are connected to the software each week.

Over 172,493 tables and boxes have been created with Affiliatable as of now.